Communications
Re-Enrollment Information
Principals, please share this very important re-enrollment information with parents and students:
Enrollment Flyer – English PDF
Enrollment Flyer – Spanish PDF
Enrollment Flyer – Burmese PDF
Enrollment Flyer – Kinyarwandan PDF
Enrollment Flyer – Swahili PDF
COVID Guidelines for Gatherings
Hello Everyone,
As we prepare to close out the school year, we know that some of you are planning activities at your school campuses for your students and their families. Many of you may have questions about what are the most updated restrictions and guidelines for planning events.
We have provided a list of guidelines that will need to be followed to help ensure that we mitigate the spread of COVID-19 during these gatherings as much as possible.
Indoor Activities/Events
Limited to students only
Masks required
Social Distancing Required
Soloists only for choir and woodwind performances
Can be held during or After school hours
Outdoor Activities/Events
Can be held during or after school hours
May include family spectators (Limit 2 per student)
Masks Required
Social Distancing Required
Band and Choir may perform with social distancing
If you have any questions, please contact your Instructional Improvement Officer.
State Treasurer's Office Recognizing Teacher Appreciation Week, May 3-7, with $10,000 Giveaway
Ten Kansas teachers have the opportunity to receive $1,000 each in celebration of National Teacher Appreciation Week, which is May 3-7, Kansas State Treasurer Lynn Rogers announced.
People are invited to nominate a Kansas teacher for the $1,000 award by using this online form. Nominations will be accepted until noon Friday, April 30. The State Treasurer's Office will announce two winners each day beginning Monday, May 3. Winners will be selected at random. Entries are limited to one per person. Duplicate entries will be deleted. No taxpayer dollars are contributing to this award fund, the State Treasurer's Office said.
The awards will be paid through the State Treasurer's Office's partnership with Learning Quest 529 Savings Plans. Winners will have a choice to receive a scholarship or a contribution to a new or existing 529 Savings Plan.
Enough is Enough Sign-Up
Principals,  please share this pledge page with your staff – and ask them to share it with students and parents.
Curriculum & Instruction
EC & Elementary Principals
RE: Science of Reading PD Opportunity
Administrators are invited to join instructional coaches TODAY (Friday, May 7th) at 1:00pm to engage in professional learning around the Science of Reading. Participants will select from a variety of webinars, articles, and podcasts and be given one hour for self-directed learning. Then, they will engage in 40 minutes of small group discussions to share their learning with colleagues who selected professional learning on a similar Science of Reading topic. Please reach out to allison.rice@kckps.org with any questions. 
Zoom Link: https://us02web.zoom.us/j/9904575555
Elementary Principals
RE: K-3 ELA Pilot
The curriculum department is looking for buildings that would be willing to participate in piloting K-3 ELA resources during the first quarter of the 2021-2022 school year. The resources being piloted are CKLA and Open Court Reading. Building level applications are due TODAY (Friday, May 7th).
Participation would require the following:
Ability for pilot teachers to participate in beginning of year training with the vendor. 

Ability for pilot teachers to possibly participate in Wednesday training half-way through the quarter.

Support of the building instructional coach

"Open door" policy with curriculum for in the moment training, observation, and modeling

Commitment to the Science of Reading and Structured Literacy
If you are interested in having the K-3 ELA pilot be part of your building's first quarter, please complete this short Google Form. If you have questions, please email allison.rice@kckps.org. Expressing interest for your building does not guarantee teachers from your building will be selected, but it does mean they will be given the opportunity to apply. Please note, this form is for building principals to complete.
Elementary Principals
RE: Amplify Reading K-5 Usage Competition
Remember the usage competition for our Amplify Reading K-5 Pilot ends May 14th. The winning building will receive boxes of Amplify swag. The winning grade level team will receive Bluetooth speakers!!!
Here are this week's rankings:
Lindbergh Elementary: 85% (up from 80%)

Eugene Ware: 77% (up from 75%)

McKinley: 62% (up from 51%)
Elementary Principals
RE: Delivery of Eureka Math and CKLA Consumable Workbooks for 2021-22 School Year
Please expect vendors (Great Minds and Amplify) to contact your school to schedule delivery dates for shipments in the next couple of weeks.  Vendors have been provided with school, principal, and head custodian contact information. Deliveries will arrive on box trucks with lift gates to unload the pallets from the truck to the ground.  Materials will be brought inside over the first threshold.  The carrier will not break down pallets to carry materials inside nor will they bring pallets up steps. Due to COVID-19, some carriers still have stipulations in place limiting inside delivery considering the health and safety of their employees as well as the receiver.
To ensure prompt and accurate reporting of missing or damaged items delivered from vendors, we have established the following procedure to ensure all inventory is received and in good condition.
The person (Custodian, Admin Support etc.) receiving the items will check to ensure all items being signed for (#of Boxes, packages, or items etc.) are received before signing for the delivery.  We cannot dispute receiving a total quantity of boxes/packages with the vendor if the school has signed for the order.

To ensure all items are received, boxes will need to be opened and verified according to the packing slip(s).  If items are missing/damaged, notify Tresia Hassan via email at

tresia.hassan@kckps.org

within

10 days

of delivery.  Include a copy of the packing slip and notation of what is missing or damaged. 

Please note that Vendors nor the Curriculum and Instruction Department will be responsible for replacing damaged/missing items when notification is not received in a timely manner.  
For reference, this linked google sheet indicates the number of books requested by your site.  Please contact Suzie Legg, suzie.legg@kckps.org with any questions.
DERA
FastBridge Window starts Monday, 5/10.
Sumner Applicants to be tested Monday, 5/10 & Tuesday, 5/11.
Changes to how students login this window.  Details & visuals can be found at the link below.
Spring Proctor Checklist for FastBridge at link below.
Remember virtual learners can test remotely; do not have to come to buildings.  However, students testing for Sumner admissions must test in person.
Refer to https://tinyurl.com/kckpsFastBridgeGuide for all details.
Human Resources
Helping Hands
If your department/school has any need for some part-time helpers, the Helping Hands program may be for you.  This program utilizes our employees that work only on school days, i.e. bus drivers, nutrition services, etc.  Having piloted this in HR this past year, we found the help extremely valuable!  If you are interested in having some extra help this summer (4, 6 or 8 weeks), please contact Sherrie Piedimonte  (913.235.8902 or sherrie.piedimonte@.kckps.org) no later than Friday, May 14th.  Thanks for considering!!
Certified Salary Adjustment Window May 1 – July 31, 2021
Leaders –
This year's Certified Salary Adjustment window is open from May 1st  – July 31st. The electronic form is used to request a salary adjustment based upon the following; completion of additional college hours, a combination of college hours and PD points, and/or add a National Board Certification Stipend. The Certified Staff Salary Adjustment Request form can be found in TalentEd Records under Available Forms. If approved for salary adjustment, a salary increase would go into effect beginning with the August 15, 2021 paycheck and onward.
Official transcripts and/or proof of National Board Certification can be uploaded directly to the submission form or sent to transcripts@kckps.org. All Official documents are due to Human Resources by July 31, 2021. If you or your staff have any questions,  encourage them to reach out individually to Shaunteh Jones at shaunteh.jones@kckps.org or Ariel Kittling at ariel.kittling@kckps.org. Please share this information with all of your Certified staff.
Stay Well!
Board Policy Review 
The board policy review for May is now active on Frontline Professional Growth. Each month you will be assigned a series of board policies through your Frontline Professional Growth account. The activity or activities, depending on your role, will be located under the Approved and/or In-progress section on your Learning Plan.
Please see below for the list of this month's Board Policy Review. Please reach out to jared.alexander@kckps.org if you have any questions.
As a reminder staff has until May 31st to view the policies that are assigned to them for the month of May.
May Board Policy Review- Certified Staff 
May Board Policy Review- Classified
NEA-KCK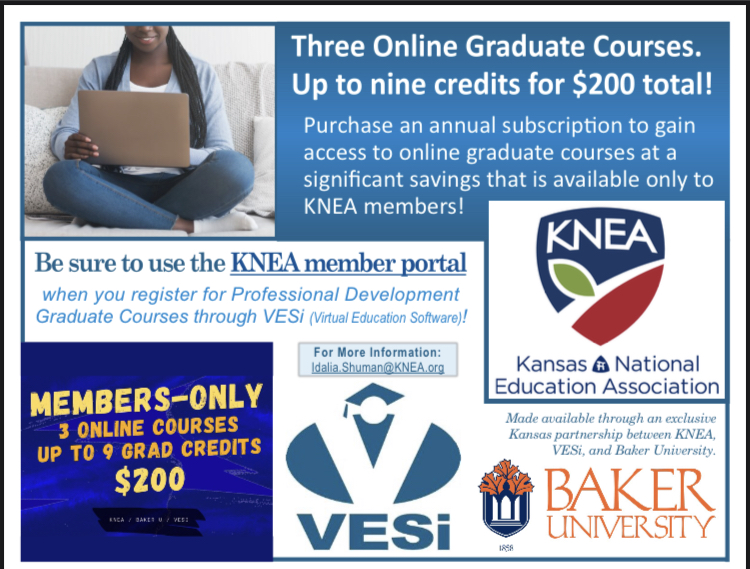 Professional Development
Tuition Discounts
MidAmerica Nazarene University
MidAmerica Nazarene University is offering a tuition discount to all KCKPS District employees and family members on select accelerated degree programs.  Please post the attached flier and forward to all of your employees.  Thank you.
MidAmerica Nazarene University Flyer PDF
Grand Canyon University
Grand Canyon University is offering a tuition discount to all KCKPS District employees and family members on select accelerated degree programs.  Please post the attached fliers and forward to all of your employees.  Thank you.
Thank You!

Grand Canyon University is grateful for you and all the support staff! The incredible impact you have on students does not go unnoticed. Thank you for your dedication, hard work and incredible resilience during a difficult year.

GCU also aims to provide educators with as many opportunities as possible. This month, we are offering two scholarships to help you move forward in your career:
Scholarship worth 25% off tuition for new undergraduate students
Scholarship worth 18% off tuition for new graduate students
We would like to show you our appreciation this Staff Appreciation Week. Join us for a webinar this week to learn more about your educational benefits and online program options at GCU.
TEACHER CERTIFICATION PATHWAY WEBINAR
DATE:
 Tuesday, May 4th   or Tuesday, June 2nd
TIME:
  4:30 – 5:00 PM CST
LOCATION:
 Click here to register via Zoom
GRADUATE PROGRAMS AND CERTIFICATES WEBINAR
DATE:
 Wednesday, May 5th or Wednesday, June 3rd
TIME:
4:30 – 5:00 PM CST
LOCATION:
 Zoom- Click here to register
ONLINE DEGREE COMPLETION WEBINAR
DATE:
 Tuesday, May 25th
TIME:
 4:00 – 5:00 PM CST
LOCATION:
 Click here to register via Zoom
GCU College of Education Flyer PDF
GCU Teacher Appreciation Flyer PDF
A Message from Ottawa University
Teachers, thank you for making a positive impact daily on the lives of your students.  We see you, we value you, and we appreciate you!
Thank You, Teachers!
CLICK HERE for a message from Dr. Kasey Johnson
Additional Item
Sometime between now and next week, principals will be receiving two things from me.  Both are for your Y1 and Y2 teachers.  One is a box has gifts for the teachers in it.  The other is a white envelope with their certificates of completion.  Please distribute these to the appropriate teachers.  Thank you very much!   …Sherrie Piedimonte
Student Services
All Audiences -Principals, Assistant Principals, Registrars, Attendance Secretaries, Principal Secretaries
We want to remind everyone the importance that "for all students who called in to be excused due to sickness/medical reason, attendance clerks enter names as they are called in on the google tracking form shared by the school nurse, along with the date of the absence and reason for the absence". For more information about this, please review the Student Absence Tracking: Guidance for Recording Absences in Infinite Campus and on the Student Absence Tracking Spreadsheet shared by Ms. Elizabeth Morris. This step is KEY for contact tracing and is part of our efforts to keep all students and staff safe. If your school does not have an attendance clerk, please work with your principal to assign someone in the building to do this, then share the name of the staff with the building nurse to request access. It is very important that all tracking forms are updated daily. 
Attached is the updated WyCo Schools & COVID-19 flow chart. This is a great tool for you to share with parents and staff. In addition, we continue to work with the communication department to keep our webpage updated; Parents and staff can go to https://kckps.org/re-opening-health-safety/ for more information related to COVID.
If you have questions or need additional support, please reach out to either me, your school nurse, or Ms Elizabeth Morris. Below is the information for our next attendance clerk meeting. We look forward to see you all.
April 28th / May 12 and 26 – Secondary: 10:00 am/ Elementary : 11:00 am 
Zoom Link: https://zoom.us/j/95386364224?pwd=U3dkb2M4TGdESmd3SVJQMWZnNzZLUT09 / Meeting ID: 953 8636 4224
Wellness
Employee Support and Resource Groups – Beginning Monday, May 10
We are excited to announce a new resource available to all KCKPS staff.  PACES, a program through the Wyandot County Behavior Health Network, has created a support and resource group specifically for KCKPS employees.  The focus is on mental and emotional wellbeing, and the goal is to provide some tips and tools that employees can use if they find themselves struggling a little or a lot.
These groups will meet virtually, weekly on Mondays and Wednesdays from 4:45 PM – 5:45 PM.  Each week will have a brief skills training on a specific topic, and then an open forum discussion for the group.
Weekly topics:
Week 1:  Monday, May 10 & Wednesday, May 12 – COVID 19 General Discussion and Processing
Week 2:  Monday, May 17 & Wednesday, May 19 – Grief
Week 3:  Monday, May 24 & Wednesday, May 26 – Coping Skills and Mechanisms
Week 4:  Wednesday, June 2 & Monday, June 7 – Moving Forward – Applying skills and strengths in the next year
Both days each week will be the same, so you can choose the day that works best for you.
These groups will be led by a counselor from PACES, and will be completely confidential.  Attendee names will not be collected, nor will any discussion be shared with anyone at the school district.  The groups will meet through a Teams Meeting, and all attendees can keep their camera off and remain anonymous.
You do not have to sign up, you can just use the provided Teams Meeting link to join the groups each week.
You can copy and paste the Teams Meeting link, into your own calendar to set a reminder for each week.  Please contact Stephanie Faris if you have trouble joining the meetings or if you have any questions.
________________________________________________________________________________
Microsoft Teams meeting
Join on your computer or mobile app
Click here to join the meeting