Action Items
For  All Administrators
Opening of School Convocation
from Communications
We look forward to kicking off the 2022-23 school year with excitement and enthusiasm.
As we prepare for the new year, part of our focus of collaboration will begin with our annual Opening of Schools Convocation on Tuesday, August 9, 2022, at 9:00 am. The event will be held in the auditorium at Washington High School with guest staff from Eisenhower Middle School and Hazel Grove Elementary in attendance. The program will be livestreamed to school campuses and buildings on the District's YouTube Channel (https://www.youtube.com/kckpstv).
We look forward to inspiring messages from our Superintendent of Schools, Dr. Anna Stubblefield, and this year's keynote speaker, Dr. Salome Thomas-El. Each year brings positive change, including new additions to our staff who we will introduce and welcome to our District during the program.
Whether it is in a group or in the comfort of your office, we expect everyone to tune in and take the time to be present for this annual event.
Thanks to our skilled and devoted staff, we completed a full year of in-person instruction. Now, all signs point to another incredible and productive school year.
Notification of Annual Mandatory Trainings
from Communications
This is a reminder that all employees must complete both 2022-23 Mandatory Training bundles by Friday, 8/12/2022. These trainings are required by the Kansas State Department of Education (KSDE), as well as the Kansas City, Kansas Public Schools Board of Education policies.
You will view the first Mandatory Training Bundle (1 of 2) in a group meeting led by your building principal or department supervisor.  Please reach out to your building principal or department supervisor if you have not been contacted regarding the time for this group meeting.
You will review the second Mandatory Training Bundle (2 of 2) on your own, at a time of your choice unless otherwise directed by your building principal or department supervisor.  Please follow the How to Find KCKPS Annual Mandatory Trainings in Frontline step-by-step directions for accessing and completing the Mandatory Training Bundle (2 of 2) in the Frontline Management System.
All trainings must be completed by 8/12/2022.  Employees not completing all mandatory trainings by this date may be subject to progressive coaching action.
Once again,
Questions regarding training times and locations should be directed to your building principal or direct supervisor.

Questions regarding the Frontline online system should be directed to Jared Alexander, at Jared.Alexander@kckps.org.
IDP Representative
from Professional Workforce Development
Building Principals, Executive Directors, and Directors,
Please select ONE person from your school or department to serve as the IDP Rep. Please complete the following survey by Friday, July 29.
IDP Representative Responsibilities:
Attend IDP Rep training (30 minutes in August and 30 minutes in January.)

Track Building PD and participant attendance in Frontline

Work with Building Principal or Department Director to ensure all staff complete the mandatory trainings listed in Frontline annually

IDP Rep are compensated with a stipend in the amount of $361.50 per semester
Please let your IDP representative know they will be required to attend training BEFORE they input activities into Frontline. 
IDP Rep Training
Thursday, August 4 11:15-11:45
-OR- Thursday, August 4, 4:00-4:30
from Professional Workforce Development
New Staff Orientation – Building PD Days:
*Tuesday, August 2, 2022 – EC/Elementary Schools
*Wednesday, August 3, 2022 – Secondary Schools
iObservation – Please explain the evaluation process to new staff, clarify your building's focus for the Model of Instruction, and have new staff "Start a New Plan" under the "Growth" section of iObservation. Participants will have already logged into iObservation during the New Staff Orientation on Monday, August 1, but they will need to complete the Inventory during the Building PD time. (If you have questions about iObservation, please reach out to your Executive Director.)
NAATE Introduction – Principals will facilitate this NAATE MODULE – Overview 2022-23 presentation from our DEI Department. All notes are located in the notes section of each slide for this presentation. (If you have questions about the NAATE Introduction, please reach out to canise.salinas@kckps.org .)
Canvas Essentials – Please have new staff complete the Canvas Essentials Course from our C&I Department. All the information needed for new staff to get started with Canvas will be found within the modules and assignments. Participants will have already logged into Canvas and enrolled in this course during the New Staff Orientation on Monday, August 1, but they will need to complete the coursework during the Building PD time. (If you have questions about Canvas Essentials, please reach out to wendy.elkins@kckps.org .)
Safe Defend Enrollment
from KCKPS Police Department
Building Leaders- As mentioned during presentation at the "summit" last week, our Safe Defend system will be operationalized before the first day of school. In order to accomplish this task and be able to use this important safety item effectively, you will be asked to enroll all of your staff members so they can use the system in the event of an emergency.
We will have two of our staff members on hand and several employees of the Safe Defend company available on August 4th and 5th (8:00-4:00) to help with the enrollment process. We cannot enroll everyone for you, but will do or best to make it is easy for you by providing some hands-on training and assistance during that timeframe.
Please reach out to Veronica Cano at veronica.cano@kckps.org to schedule a time for us to help you out. Additionally, there are two documents attached that may be helpful and you can view a video within Frontline by searching Safe Defend.
Recommended Drill Procedures (PDF)
Enrollment Guide – Best Practices (PDF)
For All Principals
Better Together Wednesday PD (please share with staff)
from Student Services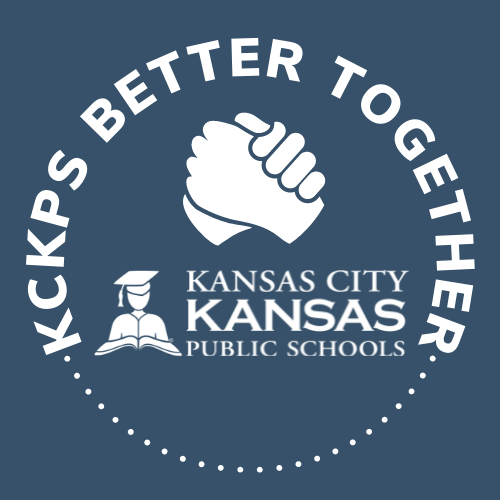 Hello! Student Support Programs is excited to partner with you all this year for Better Together Wednesdays! The last Wednesday of the month, from 4-5pm, we will be live on Crowdcast! This will feel similar to Trauma Sensitive Tuesdays (from our Remote Learning Year), and we'd love to hear from you all!
What do you want to learn?
Who should we learn from?
Use this Google form to send in your suggestions. (as always, the sessions will be recorded)
Mandatory Training Bundles for ALL Staff – Completed by 8/12/2022
from Federal Programs
All USD500 employees must complete the required Staff Mandatory Trainings for 2022-23SY by 8/12/2022.
Training Bundle 1 MUST be shown by Principals/Department Directors in a GROUP setting via physical in-seat meeting or a live Zoom. Remember to take attendance and submit your attendance sheet to your IDP representative or HR team for entry into the Frontline system.
District staff members who are assigned to one building and who regularly attend staff meetings at that building should get their training through their building principal.
All maintenance/custodial staff, nutritional services and bus drivers will receive their training and directions from their District Operations Director.
Staff members who work out of central office and support multiple buildings should receive their training through you, the Department Director.
Training Bundle 2 can be done via OnDemand with employees watching videos on an individual basis during the time you designate for your staff to complete the videos. Principals and Department Directors MAY choose to facilitate the showing of ALL videos in a physical in-seat meeting or live Zoom setting to ensure all staff complete their trainings. Remember to take attendance and submit your attendance sheet to your IDP representative or HR team for entry into the Frontline system.
See the KCKPS Admin Guide or Principal Handbook Annual Staff & Student Mandatory Training resource page for step-by-step directions on how to access and facilitate training.
An email will be sent to ALL USD500 employees the last week of July with directions regarding how to complete the 2022-23 Mandatory Training bundles. Staff members who do not complete trainings may be subject to progressive coaching action.
DERA Updates
from DERA
FastBridge Unavailable
FastBridge will not be accessible during the week of Monday July 26th.

Access to FastBridge should be accessible during the week of August 1st.
22-23 S/Y DRAFT Assessment Schedule
FastBridge: All staff recertification & new 1st grade test(s) added 
Effective 2022-2023 School Year

all

returning and new staff proctoring FastBridge and building testing coordinators will need to be recertified in assessments they will be administering. 

Certifications completed prior to June 1, 2022 have been cleared.

Teachers will need approximately 3 hours to complete training for modules and certifications combined.  Please fit this into your building PD prior to August 22nd.

Checklist

provided in the Draft Assessment Schedule for 22-23 to aid in which assessments require certification for their grade.

1st Grade:

earlyReading Sentence Reading has been added to the fall screener.  1st grade no longer will use aMath and will now proctor earlyMath.  See

Assessment Schedule

for further details.
Building Testing Coordinator Signup
Please assign a building testing coordinator for your campus.  Edit access will close July 29th.
For Title I Administrators
For CSI School Principals
Reading Intervention Teachers at CSI Schools
from Business and Finance
If you are a CSI school that received a Reading Intervention Teacher last year, please email Tracy Kaiser the name of the teacher. They are being paid from ESSER funds and we need to charge them accordingly.
For Elementary Principals
CKLA Consumable Office Supplies Allowable for Title I Funds
from Federal Programs
The new CKLA ELA resources require some common consumable office supplies for use during classroom instruction. Principals can choose to buy these consumable supplies for each classroom using Title I funds.
Please review the CKLA Materials for Building Principals to see those supplies which will be approved for Title I funds. Please put all CKLA consumable office materials on ONE SEPARATE purchase order so that these specific consumable supplies can be approved quickly for purchase. Purchase orders that include other office supply items that are NOT on the list and which are coded as Title I will not be approved until separated.
Questions, contact Lisa Walker or Bridgette DeSmet.
KC Royals Opportunity – Permission Needed for PE Professional Development
from IARC
Last year, several KCKPS elementary schools partnered with the KC Royals to become Crown Schools. This amazing opportunity is open to all elementary schools.
Action needed from you, the principal: Allow your PE teacher to attend the professional development session August 11th at the KC MLB Urban Youth Academy, 1622 E 17th Terrace, Kansas City, MO. (8 a.m. – 4 p.m.)
We are aware this is FA Day, but we are hoping you will release your PE teacher to attend the training. IARC understands your building might be in a situation where your PE teacher simply cannot break away from the FA Day to attend, but our hope is you can carve out the time for the PE teachers to come and gain the knowledge to launch the program at your school. Your teacher will receive training, and your students/school will receive
gear (bats, balls, hats, wristbands)
Crown Schools banner
on-site mini clinic
curriculum materials
posters, games, literacy books, videos
a visit from Sluggerrr
field trip to the K
game-day experience
Royals game tickets
Reminders
KCTC Data
from Student Services
Your school's 2022 Kansas Communities That Cares (KCTC) data have been loaded into your KansaSTAR School Improvement Plan folders. Please look under the NEEDS ASSESSMENT folder and then in your NEEDS ASSESSMENT subfolder to review these data packets. You will want to review this data with your Building Leadership Team and/or Behavioral Health Team. You can also log into your KCTC account and view the questions dynamically if you choose. If you have any questions or would like support in analyzing your data, please contact Tracie Chauvin.