Communications
NOTICE: New Summer-Only Schedule for the Administrators' Desk Newsletter
This edition of the Administrators' Desk Newsletter is the last one for roughly one month. From June 16 to July 19, the newsletter will be on hiatus; any urgent admin-only news postings during that window should go to either Edwin Birch or Sharita Hutton for that month. Your next Administrators' Desk Newsletter will post on Tuesday, July 20, 2021, and will remain a once-a-week publication, on Tuesdays, until the first week of August, when it reverts to a two-edition-a-week publication (Tuesdays and Fridays).
Vaccine Events Coming Soon


Please share with students and families:
Kansas City, Kansas Public Schools is happy to announce a partnership with the Unified Government of Wyandotte County's Public Health Department to host a COVID-19 vaccine event for community members ages 12 and up.
The Health Department will be offering the Pfizer vaccine (2-doses) and Johnson & Johnson vaccine (1-dose) at the upcoming events. The Mobile Vaccine Unit will then return in 3 weeks to administer the next round of the vaccine. This event is for those that need their first shot or their second vaccine. Minors under 18 must be accompanied by a parent or guardian.
Those that get vaccinated will receive free meal vouchers for the food trucks on site, and ice cream will be offered to those attending, and you can register to win one of five $100 Visa gift cards. There will also be a grand prize of a $500 Visa gift card. The drawings will take place at each event.
Event Schedule:
June 28th– F.L. Schlagle High School, 2214 N. 59th Street
June 30th – Carl B. Bruce, 2100 N. 18th Street
Time:  5pm-8pm both days
We want to thank all of our various community partners who plan to attend this family friendly event. While there you can learn about the job openings at KCKPS, grab a free backpack, learn about what the KCK Public Library has to offer, and much more.
We also want to thank Swope Health for having a Mobile Dental vehicle on-site to give children screenings and offer fluoride.
We hope to see you there.
Click here to download a printable PDF flyer for this event (in English).
Click here to download a printable PDF flyer for this event (in Spanish).
Enough is Enough Sign-Up
Principals,  please share this pledge page with your staff – and ask them to share it with students and parents.
ESOL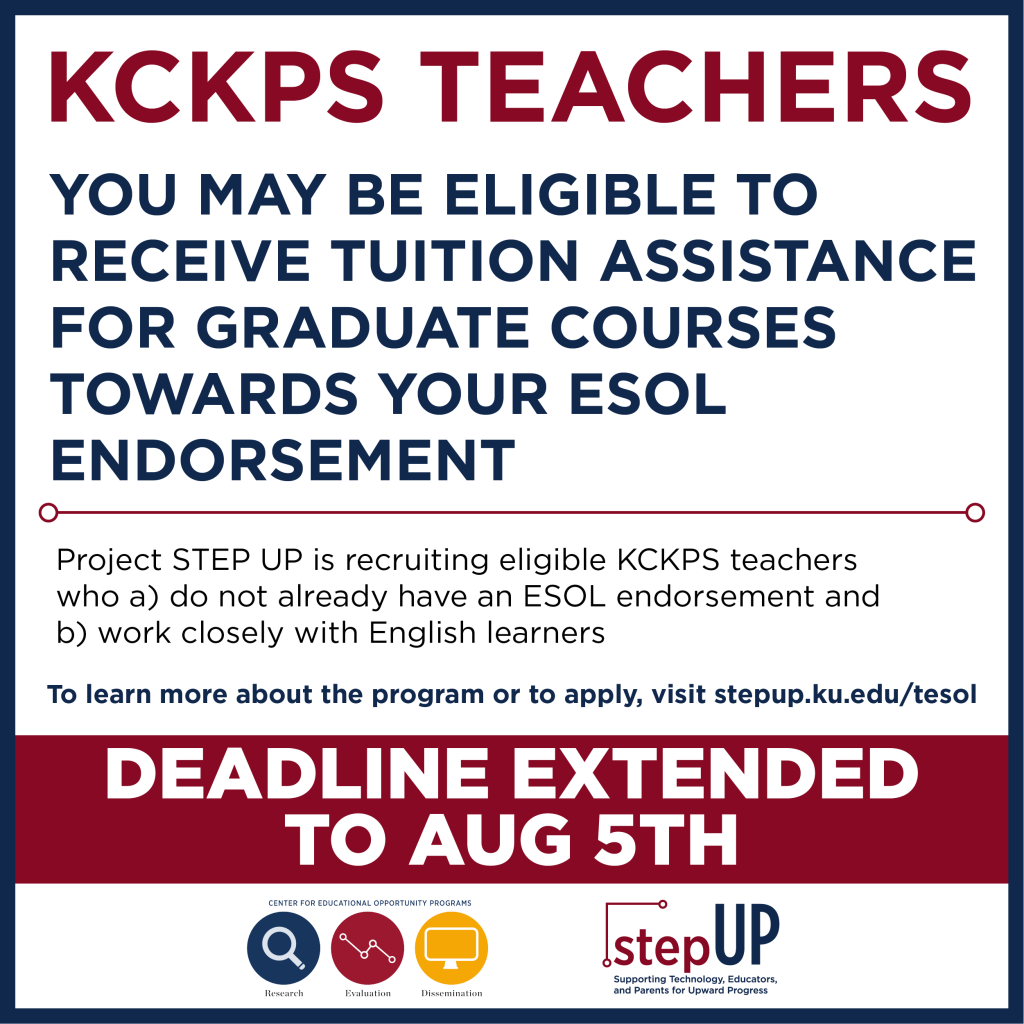 Human Resources
Retirement Celebration
Save the Date: As KCKPS gets ready to say goodbye to those men and women that have done so much for this school district, we ask that you save the date for our upcoming Retirement Celebration. The event is set to take place on Thursday, July 8th in front of Schlagle High School from 2:30 to 4pm. More details to come soon.
Certified Salary Adjustment Window May 1 – July 31, 2021
Leaders –
This year's Certified Salary Adjustment window is open from May 1st  – July 31st. The electronic form is used to request a salary adjustment based upon the following; completion of additional college hours, a combination of college hours and PD points, and/or add a National Board Certification Stipend. The Certified Staff Salary Adjustment Request form can be found in TalentEd Records under Available Forms. If approved for salary adjustment, a salary increase would go into effect beginning with the August 15, 2021 paycheck and onward.
Official transcripts and/or proof of National Board Certification can be uploaded directly to the submission form or sent to transcripts@kckps.org. All Official documents are due to Human Resources by July 31, 2021. If you or your staff have any questions,  encourage them to reach out individually to Shaunteh Jones at shaunteh.jones@kckps.org or Ana Perez-Sievert ana.perez-sievert@kckps.org. Please share this information with all of your Certified staff.
Stay Well!
Board Agenda Submissions – Extra Duty 
The submission deadline for Extra Duty items is going to be moved from the Tuesday a week before the board meeting to the Monday a week before the board meeting. This is being adjusted because of the 4 day work weeks during the summer. Submissions will go back to normal when we return to 5 day work weeks.
Purchasing
Reminder about upcoming financial deadlines from Finance:
The last date to encumber funds for the current school year was April 10. Purchase requisitions will now be denied.
All funds encumbered under PO's that are not PAID on or before June 15, 2021 will be disencumbered, and funds will return to the District to use for districtwide projects.
"Paid" means that a check has been printed and mailed by Accounts Payable, receiving a PO in BusinessPLUS (POUPRC) DOES NOT pay an invoice. Please review the status of all open POs in your budget regularly to ensure invoices are received so payment can be made no later than the last board meeting in May.
THE LAST DAY TO SUBMIT INVOICES TO AP FOR PAYMENT WILL BE JUNE 15, 2021 (NOON)!
If invoices are not received, it is the responsibility of the school/department to contact the vendor to get the invoice to AP before the June 15 deadline. If you miss this deadline, invoices presented late must be paid from your FY2021-22 funds.
~~~~~~~~~~~~~~~~~~~~~~~~~~~~~~~~~~~~~~~~~~~~~~~~~~~~~~~
PO's CLOSING
In order to help you get prepared for upcoming check out, we have some helpful things for you to be addressing now:
• Run your KCPO5001 Open PO Report in Business Plus. This is a list of all PO's in PP (partial paid) or PO (not used) status.
• On each of those PO's listed, you can drill down into the PO number and see your PO3001 Purchase Order Status Inquiry. Look under the 'Open Hold Activity' section to see all the payments made on this PO.
• If you find this is all correct, we'll talk at checkout about closing these.
• If you find you have an invoice/s that is NOT listed here, please contact the vendor for a copy of that missing invoice and address during check out.
Reminder: By following this process every couple of months, it will eliminate this big push at the end of the year; it will free up $$'s earlier for you to spend before the end of the year; it will find missing invoices earlier keeping our vendors happy and it will eliminate searching old items when there is a change in the Treasurer's position.