Action Items
For All Administrators (Action)
Attend to Achieve (A2A) Updates
from Student Services
1. Attendance Awareness Month Wrap UpAs we wrap up Attendance Awareness Month, we want to thank all teams who joined us this month with activities to bring attendance awareness to the schools. We still have two events we want to highlight:
* Attendance Fair: we are partnering with the communication team and Elizabeth Morris to host this year's Attendance Fair conjointly to the October 2nd vaccine event. We will have numerous resources available for families to help overcome barriers related to attendance – we will offer a virtual option. Please help us share this information with parents and students, we will have activities around attendance and the opportunity to win prizes!
* Launching of our new Attendance Campaign: " Make it a goal to show up". We had to make some adjustments since we were asked to push the start date to October, we apologize for the inconvenience.. But it is here! Starting in October, we will be recognizing students around attendance. We ask you to please send nominations (or assign someone to do so) monthly. Please use this link and submit your nominations by no later than the 1st of the following month. For example, for September, please submit your nomination by no later than Friday, October 1st. We will then do a drawing for a few students per level (4 Elementary, 2 middle, and 2 high). Those students will be recognized by the A2A team, will receive a Sporting KC jersey and we will share it with parents and the community (social media, etc.). We will do this monthly until May.
2. Truancy and SPED students
At the most recent meeting with the Wyandotte County District Attorney, we were communicated that; to assure we are providing support to ALL students, SPED students can be petitioned to truancy court. This was communicated to Attendance Clerks during the last PD, along with the DA letter that needs to be sent to all students. Please help us make sure that this letter is sent to all students.
We want to remind everyone that we have created an Attend to Achieve (A2A) portal that has the KCKPS guidelines and procedures around attendance and truancy as well as numerous resources. We continue to provide training and support to all attendance clerks and we have shared reports so they can keep track of students' attendance and truancy referrals submitted. Please do not hesitate to reach out to me or anyone on the A2A team if you have questions or need additional support.
National Custodians Day
from Communications & Marketing
October 2nd is National Custodians Day, so we are looking to recognize our awesome staff but will need photos. Principals… please submit photos of your custodial staff to Sharita Hutton via email before Thursday, September 30th.
Bullying Prevention Site Action Plans
From Student Services
Bullying Prevention Site Action Plans are due to the Office of Student Services by October 29th, 2021. Within the Bullying Prevention Site Action Plan Folder, you will find a plan labeled with your building name. On the right hand column, you enter your building's specific information for each section. When completing your action plan, think what protective factors do we have in place to reduce bullying? How do we include all members of our community in this? How do we consistently respond to alleged instances of bullying?
Please also include any supporting documentation, which can be linked in your document. If you have questions or would like to walk through your document with someone from Student Services, please contact Tracie Chauvin.
Bullying Prevention Month and Unity Day
From Student Services
October is Bullying Prevention Month! To recognize this, we will again be celebrating Unity Day 2021 on Wednesday, October 20th, 2021 by wearing orange across the district. Lesson and activity ideas have been shared with counselors. Parent information and flyers can be found here.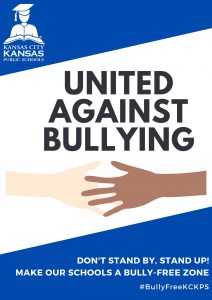 Follow @SELKCKPS for resources and tips on preventing bullying in our KCKPS schools.
For All Principals (Action Item)
District Content PD
From Professional Workforce Development
Principals, please share the 21-22 District Content PD – Locations/Links document with all staff, so they will know where to go and/or login for District Content PD.
District Content PD is scheduled for Wednesday, Sept 22 for Middle Schools and 9:00 Elementary Schools.

District Content PD is scheduled for Wednesday, Sept 29 for High Schools and 8:30 Elementary Schools.

See the 21-22 KCKPS District PD Calendar for additional dates and information.
We are working hard to have our staff utilize this ONE document, 21-22 District Content PD – Locations/Links, as THE go-to source for District Content PD information.
For Building Administrators (Action Item)
Adding Staff to DCIP – Wednesday Course
From Diversity, Equity, and Inclusion
If you have not already done so, please add your staff to the DCIP – Wednesday CANVAS course. It is imperative that your staff are added to you building section so that your building IDP rep can take attendance and that your staff will get credit.
Here is a link on how to add staff to your specific section.
Please do not hesitate to reach out to Dr. Zakry Akagi-Bustin if you have any questions.
Trauma Sensitive and Resilient Schools MiniGrant Deadline
From Student Services
A quick reminder that resource requests for your Trauma Sensitive MiniGrant are due by October 1, 2021. I will not accept any requests made after 11:59pm on October 1, 2021. For questions, contact Brittany Talley.
Informational Items
For All Administrators (Informational Item)
Supplemental Fall Payments Due October 15, 2021
from Human Resources
Greeting administrators,
It is time to submit the names of staff who are participating in the following activities:
Activity
Payment Date
Activity
Payment Date
Band
12/15/21
National Honor Society
12/31/21
Class Sponsor
12/15/21
National Junior Honor Society
12/31/21
HS Debate
12/31/21
Newspaper
12/15/21
MS Debate
12/15/21
Orchestra
12/15/21
Drama
12/15/21
Pep Club
12/15/21
Drill Team
12/15/21
Principal's Choice
12/31/21
Intramural Sports
12/31/21
Scholars Bowl
12/15/21
Jazz Band
12/15/21
STUCO
12/31/21
Louder than a Bomb
12/31/21
Teachers of Tomorrow
12/15/21
Marching Band
11/15/21
Vocal Music
12/15/21
Music
12/15/21
Yearbook
12/15/21
Submit names by October 15, 2021. Use one of the links below.
Elementary Schools
Middle Schools
High Schools
Certified Evaluation Timelines
from Human Resources
As we progress through the year, it is important that we stay abreast of the upcoming deadlines for staff evaluations. The staff evaluation timeline can be found in the Admin Guide under "Employee Evaluations". If you scroll to the bottom, you will find a link to the timeline. The following should be or been complete by the following dates:
Year One and Two Teachers –
Due August 31 – Growth and Evaluation Orientation Meeting. Teacher Growth Plan Overview
Due September 1 – Teacher Completes Growth Plan
Due September 24 – Teacher Growth Plan – Supervisor Approval
Due September 24 – Observation 1 Complete
Due October 18 – Observation 2 Complete
Due Evaluation 1 – November 9 Complete
Year Three and Four Teachers –
Due August 31 – Growth and Evaluation Orientation Meeting. Teacher Growth Plan Overview
Due September 1 – Teacher Completes Growth Plan
Due September 24 – Teacher Growth Plan – Supervisor Approval
Due September 24 – Observation 1 Complete
Due November 9 – Observation 2 Complete
Due January 15 – Observation 3 Complete
Due February 15 – Evaluation 1 Complete
All Other Evaluations –
Due February 15 – Evaluation Complete
Fall Staff Reviews
from Human Resources
The Fall Staff Review is a comprehensive look at all teachers in your school, including all relevant data associated to staff. During this time the Principal(s), IIO and HR Advisor(s), Director(s) will identify staff that fall under the following categories, "Top Performer", "Expected Performer", and "Low Performer" The following are the dates associated.
By October 18 – HR sends form out to schools to fill out about each teacher in their building (with rubric)
By October 29 – School Principal(s) and IIOs will have completed form for all teachers in their respective buildings
By November 30 – Meeting with Admin and HR to discuss
By December 16 – Conversations with employees about performance and longevity.
Open House
From Human Resources
Dear Admins,
Fall has officially begun! With this new season, many applicants are ready for new beginnings and opportunities. You may have seen our social media, print, and district advertisements throughout this week regarding our Open House event on Wednesday, October 6 at Carl B. Bruce from 4:30 – 6:30 PM.
We have designed this event to be a true Open House where applicants can walk around from table to table to see the current or projected available positions at your building. If you or your assistant principal(s) plan on attending please sign up with this link and have it filled out before the end of the day on October 1, 2021, to secure your spot:
Requirements
Decorate table (Entice our applicants by showing off your building and why one should apply)
*Note: You may have to share half of your table with another school if each school is participating. We will inform you by Monday, October 4.
Arrive no later than 4:15 PM. If you will need to arrive after 4:30 PM, please let us know by October 5.
Have a list of current or future vacancies printed so it's easier to provide for your applicants.
Have FUN
Attached is our digital flyer (English and Spanish). Please feel free to share with your networks.
If you have any questions please do not hesitate to contact me or Cynthia Fulks.
Thank you,
Alexus Salinas
National Walk and Bike to School Day
from Communications & Marketing
National Walk and Bike to School Day is quickly approaching. Looking for ideas on how to have your students participate? Want to get your school registered? Here is a link for more information.
HR FAQ is Live
from Human Resources
The HR FAQ is now live on the KCKPS website. Please use this resource to help answer questions for you and your staff.
Supervisor Checklist for Offboarding Employees
from Human Resources
New document has been added to the Admin Guide. This can be found under the Supervisor's Checklist section. Please utilize this information in the instance of an employee exiting the district. There is a form required to collect assets and gain signatures from respective parties. Please utilize this document anytime an employee leaves the district. Please visit the Admin Guide to access. (You must be signed into your M account)
Remote Work Checklist for Quarantined Employees
from Human Resources
This protocol has been recent uploaded to the Admin Guide to provide supervisors with guidance on process for approving remote work for quarantined employees. This document explains the criteria, the process for approval, and information around class coverage and payment associated. Please visit the Admin Guide to access. (You must be signed into your M account)
COVID Mask Protocol and Corrective Action
From Human Resources
There has been a new resource added to the Administrator's Guide regarding COVID mask protocol and corrective action associated with not following the protocol. Please visit the Admin Guide to access. (You must be signed in your M account)
October 6 – DCIP Training
from Student Services
The slides/facilitation guide for the Trauma Sensitive portion of the October 6 DCIP Wednesday have been uploaded to the Canvas course and sent out to Trauma Team Leads. If you have questions, please contact Brittany Talley.
New COVID-19 Vaccine Event on October 2, 2021
From Communications & Marketing
Whether it's your first COVID-19 vaccine or your second dose, KCKPS is happy to be partnering once again with the Wyandotte County Health Department to host our fourth COVID-19 Vaccine Event. This family event will take place on Saturday, October 2nd from noon until 3pm at J. C. Harmon High School.
COVID-19 Vaccine Facts and Information
In addition to COVID-19 vaccines, the health department will also be offering flu vaccines and sports physicals.
Sports Physical Forms
Pre-Participation Physical Evaluation (English)
Pre-Participation Physical Evaluation (Spanish)
The Health Department will be offering the Pfizer vaccine (two doses) and Johnson & Johnson vaccine (one dose). Remember, the vaccine is safe for those 12 and up, but minors under 18 must be accompanied by a parent or guardian. With a signed form from a guardian, children 12 and up will be able to receive the COVID-19 vaccination without the guardian present. Those 12 and up must have the paperwork in hand to get the vaccine.
Those that get COVID-19 vaccinations will receive free meal vouchers for the food trucks on site. Those receiving the first vaccine will also walk away with a $50 gift card.
In addition to vaccines and physicals, KCKPS has teamed up with some amazing community partners for free giveaways to get students ready for the winter months. Free food, ice cream and more will be offered. In addition, you will get a chance to hear from some of the KCKPS bands in what we are calling "March to the Beat: A KCKPS Band Showcase."
The Swope Parkway Mobile Dental Truck will also be there, providing free screenings and fluoride for children.
If you need a ride, we also have you covered.  KCKPS Transportation Services are for those 5 years and older. No one under the age of 5 can ride due to safety concerns. If you need special accommodations, please call 913-627-3100 before Monday, September 27th.
| School | Time |
| --- | --- |
| Banneker | 11:00 a.m. |
| Caruthers | 10:40 a.m. |
| Claude Huyck | 11:20 a.m. |
| Douglass | 11:00 a.m. |
| Emerson | 10:55 a.m. |
| Eugene Ware | 11:00 a.m. |
| Frances Willard | 11:00 a.m. |
| Frank Rushton | 10:55 a.m. |
| Grant | 11:20 a.m. |
| Hazel Grove | 11:00 a.m. |
| J.F.Kennedy | 11:20 a.m. |
| John Fiske | 11:30 a.m. |
| Lindbergh | 11:20 a.m. |
| Lowell Brune | 11:00 a.m. |
| Mark Twain | 11:20 a.m. |
| McKinley | 11:00 a.m. |
| M.E.Pearson | 11:00 a.m. |
| New Chelsea | 11:20 a.m. |
| New Stanley | 11:35 a.m. |
| Noble Prentis | 11:35 a.m. |
| Quindaro | 11:20 a.m. |
| Silver City | 11:15 a.m. |
| S.P. North | 11:00 a.m. |
| S.P. South | 11:20 a.m. |
| T.A.Edison | 11:15 a.m. |
| Welborn | 11:00 a.m. |
| West Park | 11:20 a.m. |
| Whittier | 11:20 a.m. |
We hope to see you there.
COVID-19 Vaccine Event PDF Flyer in English
COVID-19 Vaccine Event PDF Flyer in Spanish
Electronic Reporting Forms for Injuries and Incidents
From Communications & Marketing
Just a quick reminder that many of the forms you need when it comes to incidents are now electronic.
Student injury forms have now been included to the list.
To find the reporting form for students go to this link: https://form.jotform.com/212366215525047
To make the reporting of workman's compensation accidents less time consuming, the Supervisors Accident Report is now an electronic form.
Regardless of severity, immediate supervisors & directors are required to report all work-related injuries within 48 hours to Risk Management.
To do so, please use the following link: https://form.jotform.com/212304621025035
The Incident Report helps document any incident involving non employees.
This includes our students, visitors, parents and guardians.
The incident form is to be filled out for a number of situations including: a child is missing, if a student is injured in a way that could require medical attention in the future, police have to be called during an incident,  there is a fight,  or even to report property damage.
An example of a fight that needs to be recorded- a fight that breaks out that others are around and it may have been recorded. A fight that someone may not realize they are injured immediately but could later on in the day. Fights that do NOT need to be recorded: two kids on the playground hit each other in the arm over a ball.
There may be other incidents that could also require use of this form.
If you have questions about whether an incident falls into this category, please reach out to your IIO.
Here is a link to the Incident Report form:  https://kckps.org/incident-report/
For Elementary Principals (Informational Item)
Diploma+ FA Day is Monday, Oct. 4th
from Diploma+
Oct. 4th is our next Diploma+ FA Day. We are excited to see teachers sharing career information with students using Connector prerecorded videos, live Connector sessions or live zooms with career speakers they have arranged. Below are links to directions to view the Connector prerecorded videos, the Kansas Career flower with example careers for each petal and a link to the FA calendar for the year noting which days are for Diploma+. Please reach out to Renee Freers with any questions or for additional support.
Connector Goals Calendar
from Diploma+
This year the strategic plan goal is to have EVERY elementary counselor and EVERY elementary regular classroom teacher experience a LIVE Connector session with their students during the first semester and another LIVE session during the second semester. To keep us on track toward reaching the goals the following Goals Calendar has been created.Oct. 1 40% of the teachers will have attended a LIVE session with students
Nov. 5 70% of the teachers will have attended a LIVE session with students
Dec. 1 LAST day to request a LIVE session for 1st semester
Dec. 16. 100% of the teachers will have attended a LIVE session with studentsI will be celebrating those who met the mark through this newsletter and sending out individual building progress reports to the building administrators after each target date . This data will only be updated monthly this year so I cannot give more frequent progress reports. Please let Renee Freers know if your building would like any additional support or training.
For Elementary & Middle School Principals (Informational Item)
For Secondary Principals (Informational Item)
Canvas Training Sign-up for your school
From Curriculum and Instruction
This is for SECONDARY schools only. Wendy Elkins has provided multiple sign-up opportunities to come to your school for the entire day and collaborate with teachers and administrators on how to use Canvas. Sign-ups begin on Sept.20th and run until Oct. 19th. Options on how to best utilize the time is determined by each site, some suggestions are:
PLC's could meet with Wendy for training and planning (central location).
Teachers and administrators could come to a central location to get help when they are available.
Other
Use this link  to schedule your site visit. The appointment title you are looking for is Site Canvas Help. Make sure you are logged into your google calendar. In the title of the appointment, please put the name of your school and in the description, please provide the name of a contact person that Wendy can coordinate with.
For Building Administrators (Informational Item)
For All Principals (Informational Item)