Action Items
For All Administrators (Action)
Bullying Prevention Site Action Plans
From Student Services
Bullying Prevention Site Action Plans are due to the Office of Student Services by October 29th, 2021. Within the Bullying Prevention Site Action Plan Folder, you will find a plan labeled with your building name. On the right hand column, you enter your building's specific information for each section. When completing your action plan, think what protective factors do we have in place to reduce bullying? How do we include all members of our community in this? How do we consistently respond to alleged instances of bullying?
Please also include any supporting documentation, which can be linked in your document. If you have questions or would like to walk through your document with someone from Student Services, please contact Tracie Chauvin.
Bullying Prevention Month and Unity Day
From Student ServicesOctober is Bullying Prevention Month! To recognize this, we will again be celebrating Unity Day 2021 on Wednesday, October 20th, 2021 by wearing orange across the district. Lesson and activity ideas have been shared with counselors. Parent information and flyers can be found here.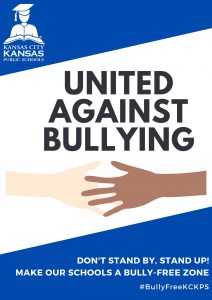 Follow @SELKCKPS for resources and tips on preventing bullying in our KCKPS schools.
For Secondary Administrators (Action)
KCTC Survey
From Student Services
Our district utilizes the Kansas Communities That Cares (KCTC) Survey to gather information needed to plan prevention strategies and judge their effectiveness, measure the district's social-emotional strengths and weaknesses, and provide data for our current KESA plan. Between November 2021 and January 2022, our district's 6th, 8th, 10th, and 12th grade students will be participating in the KCTC survey and we are asking for your help in doing this. Please complete the linked spreadsheet with your point of contact for the KCTC survey (KCTC Point of Contact Spreadsheet) by September 17th. This person can be a counselor, FACES, or another individual who supports KCTC administration in your building.
Informational Items
For All Administrators (Informational Item)
Hispanic Heritage Month and Module 2 Wrap Up
From Diversity, Equity and Inclusion
From September 15th through October 15th is Hispanic Heritage Month. Through this month, we recognize the achievements and contributions of Hispanic American champions who have inspired others to achieve success!
This link has a great graphic about the history oh Hispanic Heritage Month. Additionally, a link to the Hispanic Heritage month website where teachers can access great resources and materials.
Hispanic Heritage Month Website
The Department of DEI wants to thank you all for attending Module 2 – Implicit Bias Professional Development Session. Here is the ending video from DEI PD on 9/16. Please let us know if have any questions!
Electronic Reporting Forms for Injuries and Incidents
From Communications & Marketing
Just a quick reminder that many of the forms you need when it comes to incidents are now electronic.
Student injury forms have now been included to the list.
To find the reporting form for students go to this link: https://form.jotform.com/212366215525047
To make the reporting of workman's compensation accidents less time consuming, the Supervisors Accident Report is now an electronic form.
Regardless of severity, immediate supervisors & directors are required to report all work-related injuries within 48 hours to Risk Management.
To do so, please use the following link: https://form.jotform.com/212304621025035
The Incident Report helps document any incident involving non employees.
This includes our students, visitors, parents and guardians.
The incident form is to be filled out for a number of situations including: a child is missing, if a student is injured in a way that could require medical attention in the future, police have to be called during an incident,  there is a fight,  or even to report property damage.
An example of a fight that needs to be recorded- a fight that breaks out that others are around and it may have been recorded. A fight that someone may not realize they are injured immediately but could later on in the day. Fights that do NOT need to be recorded: two kids on the playground hit each other in the arm over a ball.
There may be other incidents that could also require use of this form.
If you have questions about whether an incident falls into this category, please reach out to your IIO.
Here is a link to the Incident Report form:  https://kckps.org/incident-report/
21-22 Mandatory Training
From Human Resources
Principals and Department Leaders,
Please review the attached document. Staff listed on this document have enrolled but have NOT completed the 21-22 Mandatory Training in Frontline.
Find your staff who have NOT completed the 21-22 Mandatory Training in Frontline (showing as N/A on the sheet.) Direct them to complete the 21-22 Mandatory Training in Frontline by end of business on Wednesday, September 15, 2021.
If you or your staff have any technical questions about Frontline, please contact your building IDP Representative. If the IPD Rep is having issues they can reach out to their contact in HR. Brief directions on how to view the videos are below.
Please note – HR will send an updated completion list on Friday for the 21-22 Mandatory Training in Frontline.
Action Item: Share the information below with your staff who have NOT completed the 21-22 Mandatory Training in Frontline:
Staff,
Our records indicate you have not completed the 21-22 Mandatory Training in Frontline. You have until the end of business on Wednesday, September 15, 2021, to complete the training.
Steps to view the 21-22 Mandatory Training in Frontline:
Login to Frontline Professional Growth
Click on Learning Plan
Find the trainings, KCKPS Mandatory Training 2021-2022, under Approved and/or In-Progress
Click Manage next to the training
Click Launch on both screens that pop up
View all videos on the list to completion
If you have watched the video to the end, but it is not showing as complete, log out of Frontline and log back in; the video should then show as complete.
If you have any technical questions about Frontline, please contact your building IDP Representative.
Thank you.
For Elementary Principals (Informational Item)
Connector Help Session
From Diploma+
Help is on the way! Please announce to your PreK-5 that a Connector Help hour is available on Tuesday, Sept. 21 from 4:00-5:00. This will be an open Zoom session. They may jump in and get one on one help whenever it is convenient for them.
Meeting ID: 899 4436 7897
Passcode: nn0zFJ
Remember: The Strategic Goal for all Elementary classroom teachers is to share at least 1 live Connector session with their students during the fall semester. Now is the time to write the request.
Pat on the Back!!
From Diploma+
Teachers in these buildings are already requesting live sessions on the Connector!
Banneker
Caruthers
Claude Huyck
Eugene Ware
Frances Willard
Frank Rushton
Hazel Grove
John Fiske
Lindbergh
Mark Twain
McKinley
ME Pearson
Quindaro
Stony Point North
TA Edison
West Park
Whittier
Principals – we know this does not happen without your support and encouragement. Thanks!!
Curriculum Department Open House
From Curriculum & Instruction
We want your feedback! Come and preview the proposed K-3 ELA resources for the 2022-2023 school year. All staff, parents, students, and community members are welcome to come to Central Office Room 132 on Thursday, September 23rd anytime between 4:30 and 6:30. Please use visitor parking and enter through the main entrance.
Open House PDF Flyer
For Secondary Principals (Informational Item)
Canvas Training Sign-up for your school
From Curriculum and Instruction
This is for SECONDARY schools only. Wendy Elkins has provided multiple sign-up opportunities to come to your school for the entire day and collaborate with teachers and administrators on how to use Canvas. Sign-ups begin on Sept.20th and run until Oct. 19th. Options on how to best utilize the time is determined by each site, some suggestions are:
PLC's could meet with Wendy for training and planning (central location).
Teachers and administrators could come to a central location to get help when they are available.
Other
Use this link  to schedule your site visit. The appointment title you are looking for is Site Canvas Help. Make sure you are logged into your google calendar. In the title of the appointment, please put the name of your school and in the description, please provide the name of a contact person that Wendy can coordinate with.
For Building Administrators (Informational Item)
SAEBRS/mySAEBRS Extension
From Multi-Tiered System of Supports (MTSS)
Just a reminder that we are administering both the mySAEBRS (student SEL self-assessment for 3rd-12th grade) and the SAEBRS (teacher administered on each student – K-12th grade). Previous communication regarding the SAEBRS and mySAEBRS was shared on 9-10-21 and 9-14-21 through the Administrators Desk. Based on feedback from the system, some may have forgotten that we were administering those assessments. Therefore, to ensure we can get as many 3rd-12th grade students to take the mySAEBRS, we have extended the window until September 30. The SAEBRS window is currently open and will close on September 30th as well. Please refer to the Comprehensive Assessment Plan  for the assessment schedule.