Informational Items
For All Administrators
22-23 S/Y DRAFT Assessment Schedule
*Please note there are still pending changes.
For All Principals
2022 Unity Award Recipient- CONGRATS
from Student Services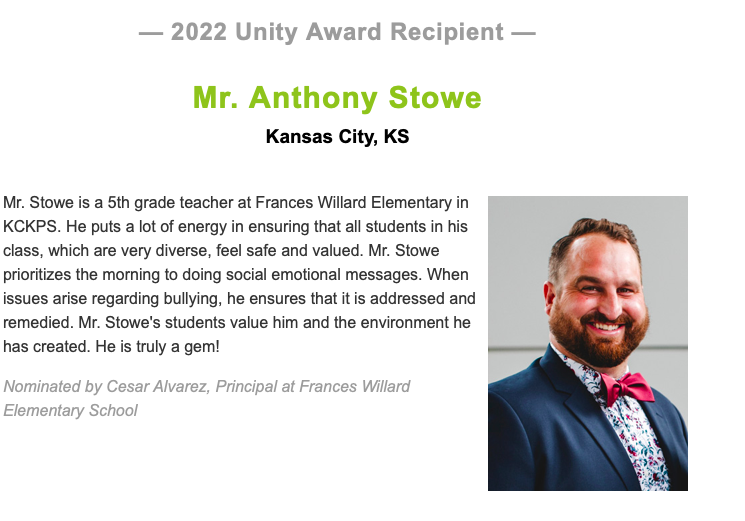 Congratulations to Mr. Tony Stowe, 5th grade teacher at Frances Willard, for being a
PACER National Bullying Prevention Center UNITY Award recipient!
UNITY Awards recognize those who are helping to create a kinder, more inclusive, and more accepting world—whether it's by empowering others to take positive action, advocating for those who need support, or sharing acts of kindness that cause a ripple effect in the community.
For Elementary Principals
For Title I Principals
Reminders
Building PD Plans Folder Linked Into KansaSTAR
from Federal Programs
A Building PD Plans folder has been linked to each building's School Improvement Plan in KansaSTAR.
Please use the folder icon in the top right hand corner of your main screen in KansaSTAR to access the Building PD Plans folder. When you click on this main folder, your school's Building PD Plan folder will display in your window.
A shortcut link to the KCKPS 22-23 District PD Plan has been placed in each folder for quick and easy access by the BLT. Buildings should use their respective folder to store their Building PD Plans and artifacts.
Questions regarding the PD Plan, contact Lindsey Schneider or your IIO. Questions regarding the KansaSTAR system, contact Lisa Walker.
Summer PD Opportunities
from Professional Workforce Development
Please share the KCKPS Professional Learning opportunities available this Summer with your summer school teachers and staff.
KCKPS Impact Course 2022 Catalog
KCKPS Summer Summit 2022 Catalog
Within the catalogs, staff will find details, FAQs, session/course descriptions, and links to register in Frontline. Staff need to register for Impact Courses and Summer Summit by June 30.
Thank you!
KCKPS Staffing Process Sheet for Annual Spring Budget Planning & Meetings
from Federal Programs
Any staffing position included in the building budget must be an existing district approved position with an existing district approved job description, and district approved compensation scale for the following school year.
Position titles and/or job descriptions of staff included and approved in the building budget cannot be changed (during the summer or following school year) to something different than what was discussed and approved during the spring budget meetings. (Titles and actual duties must remain consistent with district approved job descriptions and associated district approved compensation scales.)
Additional positions cannot be added and charged to the budget after the spring budget meetings (during the summer or following school year), without first discussing with Federal Programs, Human Resources, and Finance departments.
Any newly created positions must be vetted and approved through the Human Resources Department and the principal must provide the approved job description from the Human Resource Department, as well as the approved compensation scale for the new positions. Positions cannot be added (even as a projection) in the building budget, unless they've been vetted and approved through the Human Resources Department.