Communications
Lump Sum Info
Principals and Certified Administrators – Please share this information with your certified staff:
Complete the Online Lump Sum Request/Rescind form by April 30, 2021. Under KSA 74-4940(b) to receive your summer pay in the form of a "lump sum".
Changes made to your W4/K4 should take place starting May 31 thru June 4, 2021 on Employee Online.
THE W4 FORM HAS BEEN RECREATED – PLEASE FAMILIARIZE YOURSELF AND GO BY THE INSTRUCTIONS ATTACHED TO THE W-4 FORM. CONTACT YOUR TAX ADVISOR FOR HELP WITH QUESTIONS. THE STATE FORM HAS NOT CHANGED, SO YOU MAY CHOOSE TO USE EXEMPTIONS THERE.
If you DO NOT wish to receive a Lump Sum salary payment this year, but received it last school year, you MUST request that the Lump Sum be RESCINDED, by indicating your choice when prompted.  If you DO NOT wish to receive a lump sum salary payment this year, and did not receive one last year, you do not need to do anything.
Lump Sum Change Form
2021 W-4 Instructions
K-4 Form
Enough is Enough Sign-Up
Principals,  please share this with your staff – and ask them to share it with students and parents.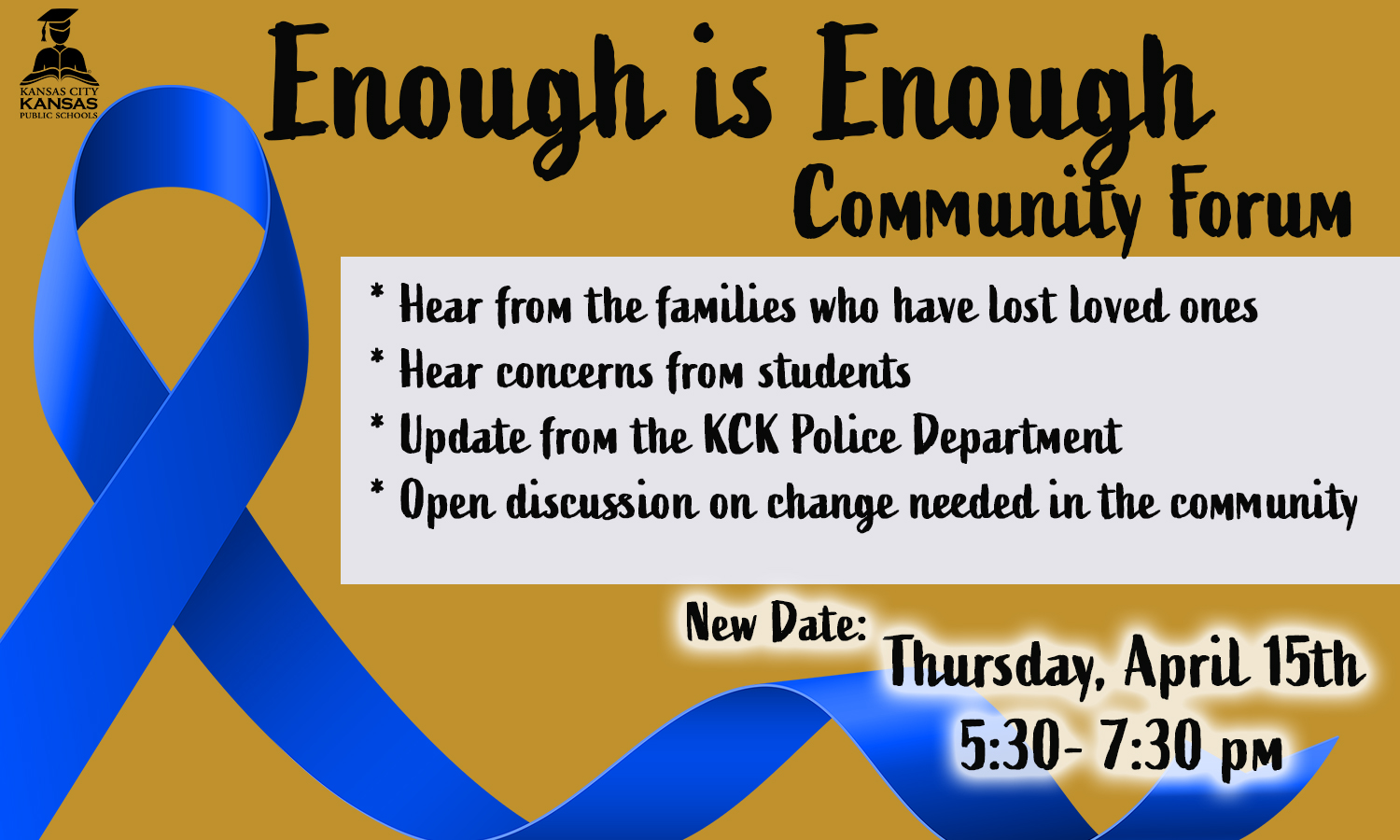 Curriculum & Instruction
Attn: Elementary Principals
Re: Amplify Science Material Delivery
New Amplify Science materials will be delivered to buildings beginning the week of April 26. This will be the first of two deliveries. Please refer to this document for information on how many pallets will be delivered to each building. Information on the second delivery will be provided and added to the document as soon as it is available. The second delivery will be considerably smaller than the first delivery. The materials may be stored for use for the 2021-2022 school year. They are grade level specific materials that are clearly labeled.They are not for individual classrooms, as they will be shared across the grade level. Teachers are welcome to unpack them for storing in a central location or wait until they return in the fall.  
Attn: Elementary Principals, Assistant Principals, and Instructional Coaches
Re:  ACTION NEEDED by Friday, April 9th – C & I Materials Ordering Information for 2021-22
Consumable Workbooks (CKLA & Eureka Math)
Please see this document for instructions to order workbooks for the 2021-22 school year.
Adding/Closing Classrooms
If you are planning to add or close any classrooms for the 2021-22 school year, please let Suzie Legg, Curriculum Coordinator, know via email (suzie.legg@kckps.org) so we can determine the next steps that make sense for your site. For reference, this document indicates the number of classrooms the C & I Department shows that you have materials for at your site.
Thank you for attending to this task as soon as possible. Please have this information completed by the end of the day Friday, April 9th.
Please contact Suzie Legg (suzie.legg@kckps.org) with any questions.
Attn: Secondary Principals, Assistant Principals, and Instructional Coaches
Re:  Secondary IC PL
All 6-12 administrators are invited to join for Secondary IC PL on Friday, April 9th, from 12:30 p.m. to 2:30 p.m. Feel free to join for the whole time or for a specific portion:
| | |
| --- | --- |
| 12:30-12:40 | Welcome and Introduction |
| 12:40-1:25 | Session 1 breakouts (topics below) |
| 1:25-1:35  | Break |
| 1:35-2:20 | Session 2 breakouts (topics below) |
| 2:20-2:30 | Debrief and Closing |
Each session will allow participants to engage in choice-based discussion rooms where they'll explore a given topic related to "How the Pandemic is Reshaping Education," including:
School by Screen: Remote learning keeps going

The Great Catch-Up: Schools set to attack lost learning

When Students Struggle: More support for mental health

Teachers Tested: Educators draw lessons from a challenging year

Rethinking Attendance: Who attends, who is absent
Inquiry-based prompts will allow participants to share what's working and discuss potential solutions for current dilemmas. We look forward to having you join us!
Topic: Secondary IC PL ~ 04.09.2021
Time: Apr 9, 2021 12:30 PM
Join Zoom Meeting
Meeting ID: 963 6631 0797
Passcode: Pa4sZy
DERA
The F & P formal benchmark assessment and data collection will no longer be required during the Fall and Spring seasons, as in the past.  Elementary schools are no longer required to maintain or transfer to middle schools the F & P reading folders.
Beginning in the Fall of 2021, the FastBridge reading assessment will include CBM Reading at grades 2 and 3 as part of the FastTrack Reading screener. CBM Reading will also be required in grades 4-12 for students not performing at or above grade level as part of the required dyslexia screener. These data will be housed and available within the FastBridge reporting system.
Informal running records and formative assessments should still be used to inform and monitor reading instruction.
Equity and Inclusion
Ramadan- Please share with all of your staff
In the religion of Islam, Ramadan is considered the holiest month of the year. Muslims celebrate by fasting, praying and giving to charity. This year, it will begin the evening of Monday, April 12th at sundown and will end at sundown on Wednesday, May 12th. Muslims that are 12 or older fast during Ramadan, not eating or drinking anything between sunrise and sunset.  Ramadan is one of the Five Pillars of Islam and during this holy month, Al-Quran was first revealed to the Prophet Mohammed.  This information was gathered from Islamic Finder Ramadan 2021 , please visit and read more.
Here are suggestions for you as the school leader and that you can pass on to your teachers:
Announcing the start of Ramadan in a school newsletter or e-blast will not only help keep your school community in the loop, but it will also signify to your Muslim community members you respect their traditions and want to make Ramadan a supportive time for students.
Ramadan coinciding with the school year is both a special and difficult overlap for children. Exercise understanding and empathy towards fasting students, keeping the line of communication open and honest.
Allow fasting students to:
Spend lunchtime in library or computer lab
Be excused from strenuous activities in P.E.
Save treats from celebrations to bring home
Take slow or transitory times during the school day to pray
http://irgmn.org/ramadan-in-schools/
Here are some other great resources to enhance your learning about this holiday, especially if you have any staff or students who will be fasting during this time:
9 Ways to Support Students During Ramadan
Celebrating Cultural Diversity With Ramadan
Column: How teachers can support students during Ramadan | PBS NewsHour
Ramadan around the world in 2021 | Office Holidays
Ramadan Information and Activities for Kids
Federal Programs
Department Directors and Principals (Please forward on to your staff/teachers.)
The Walmart Community Grant program has recently changed its application process. All applications are now submitted through the cybergrants system, with one district representative authorized to submit requests.
To submit a grant, complete the district's Intent to Apply for Grant Funding Form, save as a pdf, and attach in an email to Federal Programs Grant Writer Juli O'Mealey Simmons (juli.omealeysimmons@kckps.org). In the email, please include the Sam's Club or Walmart location(s) to which you're applying.
Upon the form's approval, Juli will use information submitted on the form to submit the grant application on your behalf and forward you notification of its status.
Finance
Budget update for Principals/Treasurers
The district will be utilizing the Allovue system for budgeting this year.  Training has been rescheduled for Principals and Treasurers to April 8 at 1:00.  The training will be recorded for anyone who cannot attend.  We strongly encourage you to bring your Treasurer or have your Treasurer watch the training recording to assist in entering the budget into Allovue.  Budget meetings with Brad, Tracy, and Dennis will begin the following week.  The Zoom link for the training is:  https://allovue.zoom.us/j/98576891291
Fine Arts (IARC)
PRINICPALS
RE:  music, art, PE and theatre synchronous learning
Teachers should use a minimum of 50% of any instructional period on synchronous instructional activities for remote learners.  Synchronous instructional activities should include live engagement with remote students. Live engagement might include:
Verbally check-in
Allow remote students to share out
Provide feedback
The full IARC overview may be viewed here:  https://docs.google.com/document/d/1FMjJVAXQfPBLfxxjwiaszxiz-TIPCQOgfRIiYF24SPc/edit?usp=sharing
Elementary Principals and K-2 teachers
Re:  STEAM workshop opportunities
IARC has funding to bring STEAM workshops to your K-2 students.  Descriptions for options are below from two different partner artists.  The artist will connect with the homeroom class via Zoom.  (The artist is remote.). Each workshop will be across three days at a designated time set by the teacher and the guest artist.
Here are next steps if you are interested in a workshop for your students.
Have your homeroom teacher select from the options below.
The homeroom teacher will email or call Jenny Ruark, KC Young Audiences, Arts Partners Coordinator, ASAP to schedule a workshop.
IARC will follow up with KC Young Audiences and handle the billing. 
Austin Meyer's Theatre Residencies
Suitable for Grades K, 1st, and 2nd 
The Changing Earth
Students will explore how the earth changes over the course of a year, learning about how and why the seasons change, and exploring the different ways these seasons impact plants, animals, and people! Using collaboration, imagination, and critical thinking, students will be able to demonstrate and articulate their understanding of the four seasons.
Biomes of Planet Earth
Release the animal in you! Test your survival skills with friends using just your bodies, voices, and imagination. Theatre elements used:  Actor's toolkit, Mirror exercise, Tableau Vivant, Improvisation.
Global Explorers
Don't just read a map, become the map! Students will explore the far reaches of the globe and our ever-changing climate through theatre and storytelling, creating an interactive experience for all.
Larry Greer's Theatre Residencies
Suitable for Grades K, 1st, and 2nd
The Changing Earth
Students will explore how the surface of the Earth is always changing. From the water cycle, the rock cycle, land formations erosion, and more!
Biomes of Planet Earth
Inspired by the flora and fauna of the Tropical Rain Forest, students explore computers and coding. Through creative movement, students will duplicate the structure and form of an algorithm.
Global Explorers
Don't just read a map, become the map! Students will explore the far reaches of the globe and our ever-changing climate through theatre and storytelling, creating an interactive experience for all.
Animals & Algorithms
Release the animal in you! Test your survival skills w/friends using just your bodies, voices and imagination. Theatre elements used: Actor's toolkit, Mirror exercise, Tableau Vivant, Improvisation.
Animal Adaptations
Using planet Earth as the inspiration, students will demonstrate their understanding of the adaptations animals make in order to survive in a variety of environments through theatre games and creative play.
Objects & Inventions
Students will explore various forces, objects and inventions through the design process, critical thinking and collaboration.
Human Resources
HR Power Hour
Message: Thank you for attending our HR Power Hour on March 25th.  I have the notes from the meeting attached as well.  We would encourage anyone who was able to attend to share with your colleagues that this is an available resource for them.  We will be having our next zoom session on April 8, 2021, from 9:30 am – 10:30 am.  During this time any questions that Building Administrators or IIO's may have they can ask our HR Staff.  Also, from an HR Standpoint, we will share any announcements or updates we may have.
https://us02web.zoom.us/j/84167032115?pwd=Y3J3OUluVmpjNVplbU1TQzdpbWtTUT09
Meeting ID: 841 6703 2115
Passcode: Z8L5Md 
Attachment: 03/25/2021 HR Power Hour Meeting Notes (link below)
Upcoming Evaluation Reminders
Message: This is a reminder that the following evaluations will be due April 10, 2021.  Also as a reminder Classified Staff Evaluations will be due on May 1, 2021
Teacher – Year 1, Semester 2
Teacher – Year 2, Semester 2
Administrator – Year 1, Semester 2
Administrator – Year 2, Semester 2
Purchasing
THE DEADLINE FOR ENCUMBERING FUNDS FOR FY 2020-21 SATURDAY, APRIL 10, 2021 This means all funds to be spent from the current year budgets (including grants, fees, etc.) must be ENCUMBERED in BusinessPLUS and submitted to Workflow on or before 11:59pm on April 10, 2021. Please note the following:
All requisitions to cover expenses that will occur during the months of April and May must be entered as a "B" type (Blanket) requisition. You are to estimate what will be spent for those months and enter a requisition for each vendor from which you anticipate making a purchase.You must do this not only for supplies, but also for any services, equipment, or furniture purchases. Remember, the goods or services that you purchase must match the purpose of the budget line. You must buy supplies with a supplies object code (56100). You cannot buy equipment (57300) or furniture (57330) with a supply (56100) object code.
2. All funds encumbered under PO's that are not PAID on or before June 15, 2021 will be disencumbered, and funds will return to the District to use for districtwide projects.
a."Paid" means that a check has been printed and mailed by Accounts Payable, receiving a PO in BusinessPLUS (POUPRC) DOES NOT pay an invoice. Please review the status of all open POs in your budget regularly to ensure invoices are received so payment can be made no later than the last board meeting in May.
THE LAST DAY TO SUBMIT INVOICES TO AP FOR PAYMENT WILL BE JUNE 15, 2021 (NOON)!
If invoices are not received, it is the responsibility of the school/department to contact the vendor to get the invoice to AP before the June 15 deadline.
b.In past years, several schools/departments waited to order items from POs until close to the PO cancelation date. As a result, items were shipped late, items were backordered, or invoices were not received timely to meet the payment deadline. It is the responsibility of the school/department to ensure items are ordered timely to meet the deadline. Invoices coming after June 15, will need to be paid from the school/department 2021-22 budget.
3. Any expenditures to be made between April 10 and the end of the school year MUST be encumbered before April 1st. This includes travel, transportation, services, mileage, etc.
4. Storeroom and Print Shop orders must be placed by April 10, if you wish to use current year funds.
5.Estimates of salary costs (other than staff regular pay) to be paid between the deadline and the end of the school year MUST be estimated on or before the deadline. While salary costs cannot be encumbered via PO, you MUST email Brad Isnard with details of the name of the person, the date the work will be performed, the estimated cost and the account number the costs are to be charged to. Email must be received in Brad's office on or before the deadline.
a.Once the work is performed, timesheets must be submitted within one pay period of the work was performed, but no later than on or before June 15, 2021.
b.Please recall that for the timesheets to be paid, the work MUST be submitted to HR for approval through Board. This information will need to be sent to HR on or before the deadline also.
c.Any salary costs not meeting these requirements will be charged to the school/department 2021-22 budget.
6.Professional Development subs, please email Melissa Shields the information to encumber funds for subs.
a.The name of the teacher requiring a sub
b.The date the sub is used
c. What budget is to be used
7.Visa Usage
a.VISA purchases in June will come from next years' funds. Enter a requisition by April 1 for as much as your budget allows for spending on VISA in your supply funds for April-May spend needs. Please code to the appropriate budgets as best you know today.
b.All reconciliations (Envelopes) must be turned in by June 15c.June spending will be coming out of your FY 2021-22 budget
8.Closing Purchase Orders
a.All December issued PO's will close April 13
b.All January issued PO's will close May 3
c.All February issued PO's will close June 2
d.All PO's issued after March 1 will stay open for invoices paid on the June 22nd Board
9.Planning deliveries
a.All delivery of product must happen in time for you to also have invoices created on the schedule above. Plan accordingly.
b.Staples will create backorders for items not in stock. This could delay the invoicing of your shipment. As you follow your orders, if you find an item is not delivering, contact Staples for an update. If delayed, we suggest you cancel that item/s so the rest of the shipment can bill. You can always place another order after July 1.
c.Staples bills for weekly deliveries over the weekend. To hit our timeline, you should place your last orders with Staples by May 28th (at the latest), to deliver and bill in time.
Special Education
Greetings Building Leaders,
Student Services
A2A
We are very excited to start school visits this week to provide additional support. During our  visits, a member of the A2A team will check in with Attendance Clerk (and/or anyone else that supports attendance) to go over procedures, answer questions and provide support. Our goal is to visit as many schools as we can this month. However, if you want us to prioritize your school, please email Ms Tolentino (naomi.tolentino@kckps.org).
Also, we want to remind you all of this month Attendance Clerk Bi-Weekly Meetings (All are welcome!):
April Dates: 14th and 28th
Secondary: 10:00 am
Elementary : 11:00 am 
Zoom Link: https://zoom.us/j/95386364224?pwd=U3dkb2M4TGdESmd3SVJQMWZnNzZLUT09
Meeting ID: 953 8636 4224
April is also Alcohol Awareness Month – all buildings 
Alcohol Awareness Month is a national public health awareness campaign to increase awareness and understanding of the causes and treatment of the nation's #1 public health problem: alcoholism. The theme this year is "Changing Attitudes: It's not a 'rite of passage.' Please share our First Call resource page https://kckps.org/first-call/ with your parents as you highlight Alcohol Awareness Month within your school community. There is also have a Youth Activity Workbook that can be used when having conversations about alcohol use. As part of Alcohol Awareness Month, we will be hosting an optional First Call Info Session for Principals and Deans to learn more about the substance use and alcohol prevention programs and services available for free to all KCKPS schools. Sessions will be Thursday, April 15th at 9:30am or 3:30pm. We look forward to seeing you there! https://zoom.us/j/91726007809?pwd=TGdRMC9ObmNGUTRyME9GbnB3QU94QT09, Meeting ID: 917 2600 7809, Passcode: LL3YBp
April is National Child Abuse Prevention Month 
During these stressful times, it's more important than ever to promote safe, stable, and nurturing environments for kids. On Friday, April 9th KCKPS will be wearing BLUE to make a visible commitment to preventing child abuse.
https://www.kcsl.org/cap_month.aspx
https://www.childwelfare.gov/topics/preventing/preventionmonth/
https://vetoviolence.cdc.gov/apps/main/prevention-information/23 
https://pinwheels.preventchildabuse.org