Action Items
For All Administrators (Action)
New District Letterhead
from Communications
Please use this letterhead template for district communications.
Annual Inventory Reporting
from Risk Management
A new year is upon us and so is the annual inventory counts for your respective buildings, departments/offices and classrooms. Attached you will find a template to help guide you with the inventory accountability process.
We DO NOT need every pencil, paper clip and staple, as those are considered supplies.
We DO need all the electronics, furniture and equipment to be accounted for.
This includes but is not limited to: Couches, Desks, Dry-Erase Boards, Cabinets, iPad charging carts, radios, TV's computers, electronic learning devices, heavy machinery etc.
If there are any questions, comments, or concerns, please feel free to contact Dennis Martine.
Inventory Instructions PDF
Inventory Template XLSX
For Building Principals (Action)
Quarter 2 Grade Adjustment Window
from Infinite Campus Support
The grade adjustment window for Quarter 2 is open. The end time has been adjusted from January 14th to January 18th to ensure 10 school days of time for this task.
Unposted grades result in blank spaces on printed grade cards and in the parent portal. For middle and high school students unposted grades result in no credit posting to the transcript. Please review this expectation with your staff and ensure your building has a process for principals to check grades for each teacher before the end of the day, Tuesday, January 18th. This linked file has directions for reports that can help you with this.
If a teacher is struggling with the mechanics of posting grades please connect them with a staff member in your building first – often a teacher with similar courses or Instructional Coach. Most issues are specific to the way teachers have entered their assignments and marked or unmarked various options.
If the teacher and building support cannot resolve the problem send email to Infinite Campus support. Screenshots are always helpful.
Infinite Campus Parent Portals
from Student Services
All parents/guardians will need Infinite Campus Parent Portals in order to complete registration forms, submit updated information, approve student course requests, and other tasks beginning this spring. Building staff who know and have relationships with parents are a key part of this process. Please review this document and plan with your staff before district level announcements go out starting the week of January 24th.
School Improvement Plan (SIP) SMARTIE Goals Updated By Friday, 1/21/22
from Federal Programs
THANKS for your deep thinking and robust engagement in the November/December SIP Workshops! WOW – the dialogue was powerful and changes in SIPs are reflecting our deeper understanding of the SIP Impact Cycle and how that work is captured and monitored in KansaSTAR!
SMARTIE Goals should be updated in KansaSTAR by Friday, 1/21/22. As you revise, keep in mind the following:
-Revise Smart Goals to SMARTIE Goals by including data measurements for subgroups.
-Include goals for ALL the data you're tracking (Attendance, Academics, Behavior, Academics, SEL, Graduation, Postsecondary, etc.).
-Break up content areas into separate goals to track and measure progress, celebrate successes.
-Move away from "will score proficient on the KAP in spring 2021-22" to "will demonstrate grade level expectations by spring of 2021-22" and use the specific assessments in the Performance Measures section for each goal. This approach helps to triangulate data rather than measuring success of a goal to a single assessment.
-Move away from "40%" or "50% of students will score" language to percentages that align to MTSS Tier I Goals and reflect HIGH expectations for ALL students. Move those lower percentages over to the Performance Measures section for each goal to benchmark annual progress. This approach keeps expectations HIGH, but provides a continuum to monitor progress as we increase the rigor of instruction and expand interventions, ultimately resulting in the number of students meeting grade level expectations.
Please refer to the KCK Principal Handbook School Improvement Planning resource page or call/email Lisa Walker for support!
For Secondary Administrators (Action)
Edgenuity Account Clean-Up and UPDATES
from Curriculum and Instruction
Reminder that you should be completing the Mid-Year Account management in Edgenuity. Please refer to the handbook for procedures. Please note that there have been some changes to these processes. Updated sections are labeled in the table of contents and any procedural changes that were added on 1/12/22 have been highlighted in yellow within the handbook.
KCKPS will begin using Clever as the sign-on process for Edgenuity later this spring. To support this transition, it is important that the updated guidelines for student account creation and for account management (clean-up) are followed. Once the transition to utilizing Clever as our SSO has occurred, student and staff Edgenuity accounts will no longer need to be manually created. We will provide more information once we are approaching the launch.
This has been emailed to coordinators on 1/13/22. Contact Wendy Elkins or Suzie Legg if you have questions.
Informational Items
For All Administrators (Informational Item)
Enough is Enough Virtual Community Forums Coming Soon
from Communications and Marketing
Since being established in 2020, the Enough is Enough program was built to inform the community on issues facing our students and address topics such as- homicide, suicide, mental health, and many more.
We know our students have a lot to deal with both in the classroom and at home, and that is why we are asking our middle and high school students to join us on Thursday, January 20th for our virtual community forum to discuss these issues, ways to solve them, and resources available to each of them. The event will run from 5:30 to 7 p.m. and offer breakout rooms so students can further discuss issues going on.
Students are asked to use this link to sign up for the virtual event.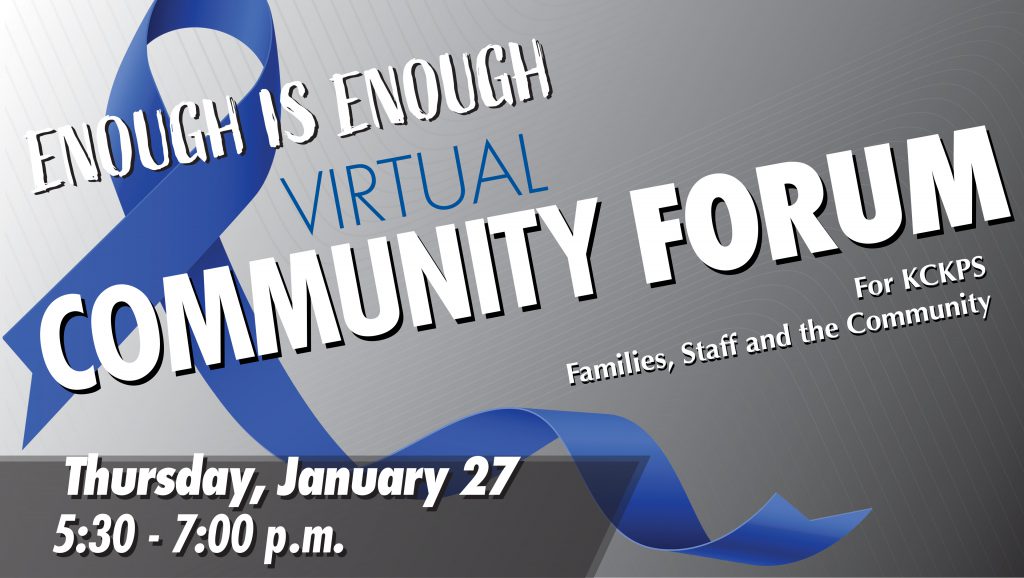 Then, on January 27th, we will be offering a virtual session for our families, staff, and community members to address some of the top issues facing our county, our school district, and our students.
Those adults wanting to join on January 27th can do so by using this link.
We hope to see you there.
Posted January 5, 2021
New Hire Orientation
from Human Resources – Talent Development
Here is a link to is the document that went out earlier this week. Corrections and modifications have been made, so please take a few minutes to read it carefully. I want to also let you know that we have now experienced the first new orientation process. While I think this is a very good change, we learned some things regarding the times on the schedule. I will send out the revised schedule next week. Thank you for your patience and support as we continue to improve our new hire orientation experience.
HR FAQ
from Human Resources
A reminder that we have an HR FAQ on our website. Please see this link.
Student-Centered Coaching Training for ICs
from Curriculum & Instruction
Julie Steele will be providing Student-Centered Coaching Professional Learning for all EC-12 Instructional Coaches on Tuesday, January 18th from 9am-2pm via Zoom. Instructional Coaches are already aware of this training via the District Professional Learning Calendar. Administrators DO NOT need to attend, but we wanted to make you aware of the structure and content of the day which can be found on this agenda.
Assessment Updates & Mandatory District Training
from DERA
Greetings Building Admins! With the start of the school year, DERA has several updates to share with you regarding assessments for Q3 & Q4. Please share these assessment updates with your teams; test coordinators have already been notified.
FastBridge winter screening window is currently open (01/03-28 for EC; 01/10-28 for K-12).
Per KSDE, 12th graders will be assessed in FastTrack Reading for both Winter & Spring. Reminder: 6-11th grade students who score below benchmark in aReading should be routed through TASN's decision tree "FASTBridge 6th-12th Individual Decision-Making Flowchart". Please consult the district's companion guide "Clarifications: FASTBridge 6th-12th Reading" for further information.
01/04 the state released a new KITE School Cluster report to support the interpretation of the KAP Interims. They also developed grade-specific ELA/Math cluster maps as a companion.
Virtual learning students are to be screened (FastBridge) and tested (KELPA, KAP interim/summative, ACT) at their assigned home buildings. Please make sure you connect with these students to make arrangements for successful assessment (i.e., needs regarding transportation, meals, accommodations, etc.). Reach 500 students will be tested at Central Office.
KAP Summatives are scheduled for March 21- April 29. Please make arrangements to follow the expected testing schedule to ensure high participation, minimize fatigue, and aid in state/self-monitoring: Week 1 (03/21-25): Test Coordinators finalize user profiles and student rosters, Week 2 (03/28-04/01): Testing for ELA Week 3, (04/04-08): Testing for Math, Week 4 (04/11-15): Testing for Science, Week 5 & 6 (04/18-29): Makeups for students (Quarantine/Absent/etc.)
KAP Summative test administrators need to complete the District's 2022 Test Security & Ethics training before March. This training will be uploaded to Frontline. We will keep you posted on its release date.
Finally, any KCKPS staff involved in the KansasCAN web application reports need to save the date of February 22nd (Central Office staff) or February 24 (Building Admin teams), for full-day (8:30a-4p) mandatory Data Quality Certification training. The state will be providing training in 131-133 those days. This is a KESA requirement. Sign-ups will be released shortly.
Strikeout COVID Vaccine Event Coming Soon
from Communications and Marketing
Administrators, please share this info with staff and students:
Kansas City, Kansas Public Schools is partnering with the Wyandotte County Health Department and the Kansas City Royals to Strikeout Covid for those ages 5 to 11 for an upcoming vaccine event.
Disqualifiers for getting the vaccine:
Sick now with any new fever, cough, chills, body aches, sore throat, fatigue, congestion, headache, shortness of breath, diarrhea, vomiting, loss of taste or smell
Positive covid-19 test in the past 10 days
Living with anyone who is positive currently.
Gloria Willis Middle School – Wednesday, February 2, 2022
A COVID-19 vaccine event will also be held at Gloria Willis Middle School on Wednesday, February 2, 2022. Both events run from 4 p.m. – 6 p.m.
Those youth receiving the vaccine will get a free meal on site and be able to pick up other great giveaways.
The Wyandotte County Health Department will be on hand to administer the Pfizer vaccine for those ages 5 to 11. A parent/guardian must be present at the event. No vaccines for those over 11 or booster shots will be offered. Masks are required at the event.
Standard Daily Meals & Incidental Expenses Rate Increased
from Purchasing
Beginning January 1st, the Standard Daily Meals and Incidental Expenses (M&IE) Rate increased from $39 to $59 per day. The new rate will only apply to travel that occurs after January 1, 2022. Accompanying this message is a guide that provides information about the new rate, with examples of how to calculate for overnight and same day travel.
Questions should be directed to Wayne Correll by email, or you can call (913) 279-2270.
Electronic Reporting Forms for Injuries and Incidents
From Communications & Marketing
Just a quick reminder that many of the forms you need when it comes to incidents are now electronic.
Student injury forms have now been included to the list.
To find the reporting form for students go to this link: https://form.jotform.com/212366215525047
To make the reporting of workman's compensation accidents less time consuming, the Supervisors Accident Report is now an electronic form.
Regardless of severity, immediate supervisors & directors are required to report all work-related injuries within 48 hours to Risk Management.
To do so, please use the following link: https://form.jotform.com/212304621025035
The Incident Report helps document any incident involving non employees.
This includes our students, visitors, parents and guardians.
The incident form is to be filled out for a number of situations including: a child is missing, if a student is injured in a way that could require medical attention in the future, police have to be called during an incident,  there is a fight,  or even to report property damage.
An example of a fight that needs to be recorded- a fight that breaks out that others are around and it may have been recorded. A fight that someone may not realize they are injured immediately but could later on in the day. Fights that do NOT need to be recorded: two kids on the playground hit each other in the arm over a ball.
There may be other incidents that could also require use of this form.
If you have questions about whether an incident falls into this category, please reach out to your IIO.
Here is a link to the Incident Report form:  https://kckps.org/incident-report/
For Building Principals
Physical Education Opt-out Form – Human Sexuality Unit
from IARC
In the past, our PE Department used an opt-in format when delivering the human sexuality and AIDS portion of our curriculum. Starting this semester, we will utilize on opt-out format. Parents who do not want their child to participate must complete the district opt-out form and return to the PE teacher. Teachers will receive details and forms this week.
Random Acts of Kindness (RAK) Week and Day
from Student Services
RAK Week is February 13th-19th and RAK Day is Thursday, February 17th.
We encourage you to participate in RAK Week/Day this February within your school communities. Even the smallest act of kindness can change a life! To sign up, access lesson plans, activities, and tools kits please visit the Random Acts of Kindness website.
For EC and Elementary Administrators
Connector Goals for Spring
from Diploma+
The Connector goals begin again. Below are the target goals for the spring semester.
30% Feb. 2
50% March 2
75%. March 30
90%. April 20
100% May 18
The goal is for each regular K-5 elementary teacher and every elementary counselor to share one live session with their students during the spring semester.
Please share this information with you teachers and counselors and reach out to Renee Freers if you need any assistance.
Canvas and Instructional Technology Support
from Curriculum & Instruction
In an effort to be available to support staff on the use of the Canvas, Wendy Elkins is hosting open, drop-in office hours (via zoom) in Jan. and February. These times occur on most Tuesdays and Thursdays. You can find the exact times and the zoom links on the mobile minutes. If you or your staff needs more personal assistance, you can schedule a time with Wendy Elkins using this Calendly Link.
For Secondary Administrators
Edgenuity SEL Content
from Student Services
Middle and High School Administrators, this is a reminder that your ISS/STS monitors, counselors, and social workers all have access to the Edgenuity Purpose Prep (SEL) content suite to be used for interventions with students. Our ISS/STS monitors, counselors, and social workers all received training from Edgenuity in September 2021 on how to access and utilize this platform. If you would like more information or support with utilizing this resource please contact Tracie Chauvin.
The recording the training can be found here for your reference.
Passcode: 07uK2U+m