Action Items
For All Administrators (Action)
BrightArrow Training Available
from Communications & Marketing
Greetings Principals and Teachers,
Do you have new staff members that need to learn how to use BrightArrow's interface? Perhaps you are looking for a refresher course? BrightArrow is now offering monthly webinars for users!
Learn how to use BrightArrow's mass notification system by covering the basics of creating and sending messages, reading reports, providing a recommended approach for weather announcements and the ins and outs of navigating the interface. These sessions are great for those users who need a refresher on how to use BrightArrow, or for those new to the system. The best part is that it is FREE!
Please follow this link to sign up for our first new user webinar held on January 26, 2022 at 12:00PM Central time: 
Register for BrightArrow User Training
Please check that users attending this session are able to log into BrightArrow.
We are pleased to provide these trainings where you can learn and ask all questions about BrightArrow's system. We look forward to meeting you online!
Change in Mass Notification Systems
from Communications & Marketing
We want to provide you with a preview of changes coming to our mass notification systems. More details, support, and training will be provided in March and April as we make this transition to one platform. We will work collaboratively as a district to inform parents and make the transition as easy as possible for everyone.
As you are aware, we implemented the Flyer Connect two-way communication application last year to enhance our communication efforts and increase engagement among our diverse group of parents within the school district.
To streamline our applications and platforms and be financially prudent, we will cease using the Flyer Connect two-way system at the end of this school year. We will use BrightChat – the two-way communication portion of our BrightArrow application. Teachers and buildings should continue using Flyer Connect and BrightArrow in the manner they are accustomed to at this time.
Based on feedback from parents and staff, we will be limiting the number of staff who send building-wide messages through BrightArrow and BrightChat.
Early Childhood & Elementary – Building Principal + 2 additional staff members
Middle Schools – Building Principal + 3 additional staff members
High Schools – Building Principal + 4 additional staff members
https://forms.gle/NhojZpzYBGUxE6s48
You must be the principal & be logged into your m.account to complete the form. All other staff members with building wide access to BrightArrow and BrightChat will be removed March 1st. If you have a special need at your building to submit more staff members than the form allows,, please discuss with your IIO and Edwin Birch.
If you have questions about our communication platforms & plan, please contact Edwin Birch:
Edwin.Birch@kckps.org
Executive Director of Communications and Marketing
Central Office
913-304-2981
A preview video of the BrightChat platform can be found at https://brightarrow.com/solutions/education/brightchat/
KN95 Masks Available for Staff Use
from Purchasing
KN95 masks have been donated to the District by Wyandotte County Health Department, and can be ordered from the Storeroom through BusinessPLUS by your treasurer or administrative assistant.  There is no cost for the masks.
Product ID: 93289  5 per Package
These masks are For Staff/Adult Use Only, and are not to be used by students.
Please contact Wayne Correll if you have any questions.
Classified Professional Development Poster
from HR – Talent Development
Posters that advertise our classified professional development has probably already arrived at your school/department. (If they haven't arrived yet, they will be there soon.). Please post it in a place where classified employee can view it. If you have questions or need additional posters, contact Sherrie Piedimonte. Thanks so much for your support of our classified staff!!
Time and Effort Sheets for Retention Bonus in December 15, 2021 Pay Period
from Federal Programs
Any classified staff member employed during the 2020/2021 school year and also employed through December 15, 2021 received a retention bonus in their 12/15/21 paycheck. (Most certified staff received their retention bonus earlier in the school year.) The district used ESSER (Elementary and Secondary Schools Emergency Relief) federal funding to pay for this round of retention bonuses. The federal government requires any staff member paid from federal funds to sign a Time and Effort sheet.
An email will go out the week of 1/18/2022 – to inform staff they may be asked to sign a Time and Effort sheet.
Between 1/18/2022 and 1/31/2022 – Federal Programs will deliver to each department/building leader a folder containing the following: Cover sheet listing all department/building classified staff; Directions for completing and returning signed documents to Federal Programs; Personalized Time and Effort sheets for classified staff in department/building.
Between 1/31/2022 and 2/28/2022 – Department/building supervisors and staff sign Time and Effort sheets.
Once all Time and Effort sheets for department/building are signed by supervisor and each employee, return to Federal Programs using one of the following methods: Hand-deliver to Melissa Cantu in Federal Programs at Central Office; Call or email Melissa Cantu in Federal Programs at 913-627-2476 to arrange for a pick up from Federal Programs team member.
New District Letterhead
from Communications
Please use this letterhead template for district communications.
Annual Inventory Reporting
from Risk Management
A new year is upon us and so is the annual inventory counts for your respective buildings, departments/offices and classrooms. Attached you will find a template to help guide you with the inventory accountability process.
We DO NOT need every pencil, paper clip and staple, as those are considered supplies.
We DO need all the electronics, furniture and equipment to be accounted for.
This includes but is not limited to: Couches, Desks, Dry-Erase Boards, Cabinets, iPad charging carts, radios, TV's computers, electronic learning devices, heavy machinery etc.
If there are any questions, comments, or concerns, please feel free to contact Dennis Martine.
Inventory Instructions PDF
Inventory Template XLSX
For Elementary Administrators (Action)
NGSS Elementary Amplify Science Program Status Survey/Deadline 1/28/22
from Curriculum & Instruction
In an effort to support and advance science instruction and the implementation of Amplify Science, the Science Core Leadership Team would like to gather information on the status of science instruction in the district. We have extended the deadline to 1/28/22 for all K-5 science teachers to be able to fill out this NGSS Elementary Amplify Science Program Status Survey. This is an anonymous, 27-question survey with the majority of questions being quick multiple-choice options. It should only take about 15 minutes to complete. We appreciate you encouraging your teachers to fill out this survey and finding creative ways to give your teachers time to complete it. The team will use this information to better customize support for the implementation of Amplify Science. If you have any questions, please contact Cheryl Beyer.
For Secondary Administrators (Action)
Edgenuity Account Clean-Up and UPDATES
from Curriculum and Instruction
Reminder that you should be completing the Mid-Year Account management in Edgenuity. Please refer to the handbook for procedures. Please note that there have been some changes to these processes. Updated sections are labeled in the table of contents and any procedural changes that were added on 1/12/22 have been highlighted in yellow within the handbook.
KCKPS will begin using Clever as the sign-on process for Edgenuity later this spring. To support this transition, it is important that the updated guidelines for student account creation and for account management (clean-up) are followed. Once the transition to utilizing Clever as our SSO has occurred, student and staff Edgenuity accounts will no longer need to be manually created. We will provide more information once we are approaching the launch.
This has been emailed to coordinators on 1/13/22. Contact Wendy Elkins or Suzie Legg if you have questions.
Informational Items
For All Administrators (Informational Item)
KCKPS Mobile Minute
from Curriculum and Instruction
Click here for the latest edition of the KCKPS Mobile Minute. Within this edition, you will find information on drop-in office Canvas office hours, where to find the status of different software, K-5 Canvas Math Modules, and much more! You can also go to this Google Site to view the mobile minutes. Please share with your staff. If you have any questions, please contact Wendy Elkins or Julie Leach.
NEA-KCK Benefit Opportunity
from NEA-KCK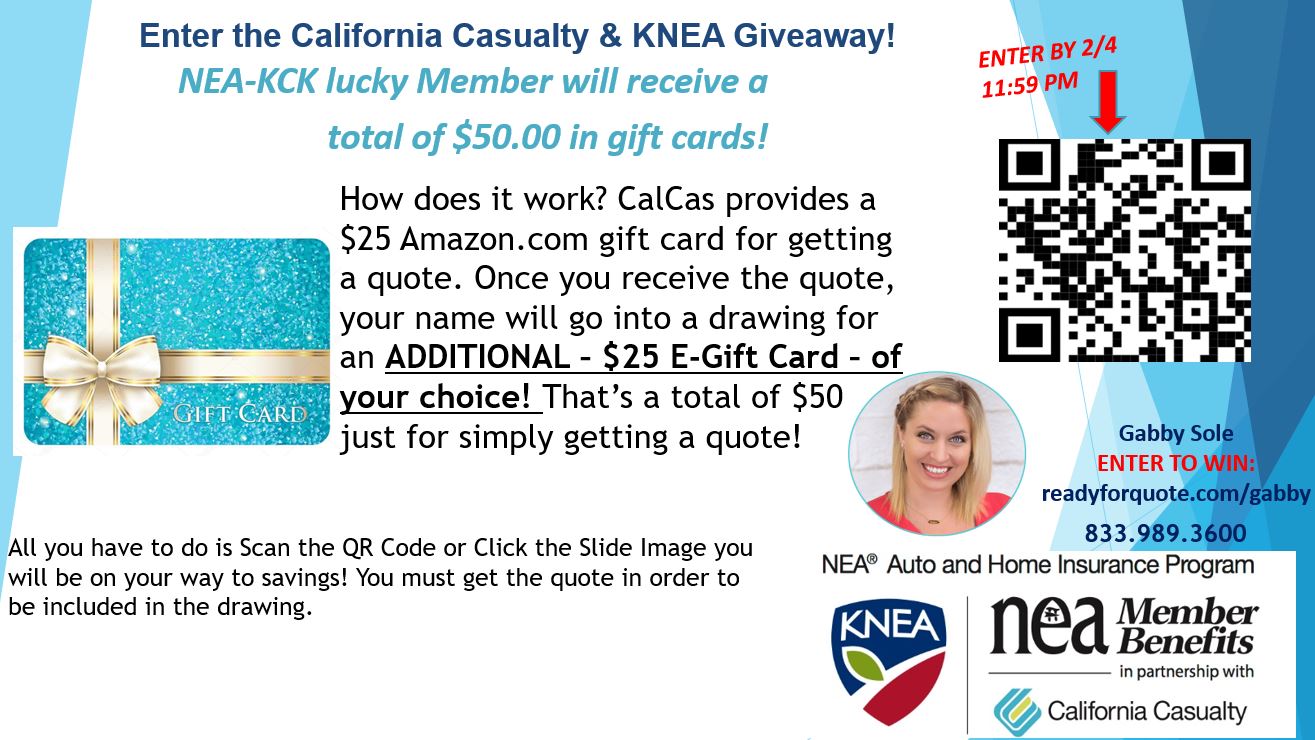 Hello NEA-KCK Members!
LAST CALL FOR CAL-CAS HOLIDAY GIVEAWAY! Since Holiday Break was so busy, Gabby has decided to EXTEND THE CONTEST to February 4th at Midnight. California Casualty wants to help you put money back in your pocket! Not only do we help save members money, but we offer Exclusive Educator Only benefits! They are offering a $25 Gift Card for anyone that gets a quote!
Once you receive the quote, your name will go into a drawing for an ADDITIONAL – $25 E-Gift Card – of your choice! That's a total of $50 just for simply getting a quote! All you have to do is visit www.readyforquote.com/gabby or scan QR code and you will be on your way to savings! You must get the quote in order to be included in the drawing.
Deadline Extended: LAST CALL, for the contest is FEBRUARY 4th at MIDNIGHT.
We appreciate all that you do for your students and the community!
Gabby Soles (833.989.3600)
New Hire Orientation (revised)
from HR – Talent Development
After engaging in our new format for NHO, it was necessary to make a few adjustments. One of the biggest adjustments is that starting January 26, all HOURLY new hires will report by 8am. All SALARIED new hires will report by 12:30pm. There are also some time adjustments, so please review that document. Also attached is a doc entitled Supervisor/Principal Guidelines. These are some suggestions on what you can do for building/department specific orientation training. Contact Sherrie Piedimonte for questions either by email or by phone at 913.235.8902.
Enough is Enough Virtual Community Forum Coming Soon
from Communications and Marketing
Since being established in 2020, the Enough is Enough program was built to inform the community on issues facing our students and address topics such as- homicide, suicide, mental health, and many more.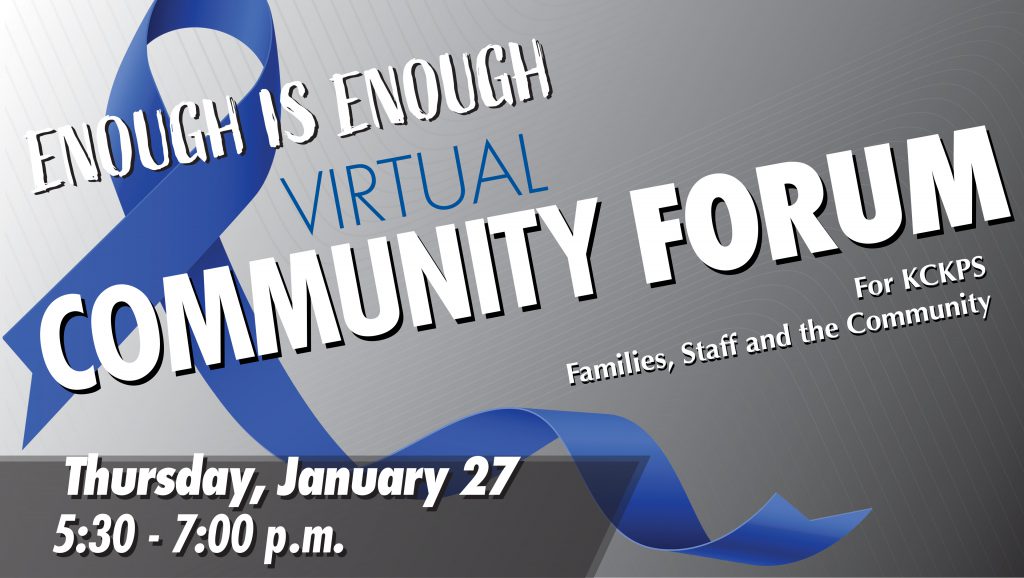 On January 27th, we will be offering a virtual session for our families, staff, and community members to address some of the top issues facing our county, our school district, and our students.
Those adults wanting to join on January 27th can do so by using this link.
We hope to see you there.
HR FAQ
from Human Resources
A reminder that we have an HR FAQ on our website. Please see this link.
Strikeout COVID Vaccine Event Coming Soon
from Communications and Marketing
Administrators, please share this info with staff and students:
Kansas City, Kansas Public Schools is partnering with the Wyandotte County Health Department and the Kansas City Royals to Strikeout Covid for those ages 5 to 11 for an upcoming vaccine event.
Disqualifiers for getting the vaccine:
Sick now with any new fever, cough, chills, body aches, sore throat, fatigue, congestion, headache, shortness of breath, diarrhea, vomiting, loss of taste or smell
Positive covid-19 test in the past 10 days
Living with anyone who is positive currently.
Gloria Willis Middle School – Wednesday, February 2, 2022
A COVID-19 vaccine event will also be held at Gloria Willis Middle School on Wednesday, February 2, 2022. Both events run from 4 p.m. – 6 p.m.
Those youth receiving the vaccine will get a free meal on site and be able to pick up other great giveaways.
The Wyandotte County Health Department will be on hand to administer the Pfizer vaccine for those ages 5 to 11. A parent/guardian must be present at the event. No vaccines for those over 11 or booster shots will be offered. Masks are required at the event.
Electronic Reporting Forms for Injuries and Incidents
From Communications & Marketing
Just a quick reminder that many of the forms you need when it comes to incidents are now electronic.
Student injury forms have now been included to the list.
To find the reporting form for students go to this link: https://form.jotform.com/212366215525047
To make the reporting of workman's compensation accidents less time consuming, the Supervisors Accident Report is now an electronic form.
Regardless of severity, immediate supervisors & directors are required to report all work-related injuries within 48 hours to Risk Management.
To do so, please use the following link: https://form.jotform.com/212304621025035
The Incident Report helps document any incident involving non employees.
This includes our students, visitors, parents and guardians.
The incident form is to be filled out for a number of situations including: a child is missing, if a student is injured in a way that could require medical attention in the future, police have to be called during an incident,  there is a fight,  or even to report property damage.
An example of a fight that needs to be recorded- a fight that breaks out that others are around and it may have been recorded. A fight that someone may not realize they are injured immediately but could later on in the day. Fights that do NOT need to be recorded: two kids on the playground hit each other in the arm over a ball.
There may be other incidents that could also require use of this form.
If you have questions about whether an incident falls into this category, please reach out to your IIO.
Here is a link to the Incident Report form:  https://kckps.org/incident-report/
For Building Principals
Random Acts of Kindness (RAK) Week and Day
from Student Services
RAK Week is February 13th-19th and RAK Day is Thursday, February 17th.
We encourage you to participate in RAK Week/Day this February within your school communities. Even the smallest act of kindness can change a life! To sign up, access lesson plans, activities, and tools kits please visit the Random Acts of Kindness website.
For EC and Elementary Administrators
LETRS Training Rescheduled for Feb 2, 2022
from Professional Workforce Development
The department directors and elementary IIOs met with the very difficult task of trying to reschedule the LETRS training that was cancelled Jan 19, due to reasons related to COVID.
As you already know, numerous Wednesdays have been devoted to the LETRS training during the second semester and we are utilizing all the Voyager Sopris staff developers to train our staff. The only day we did not already have LETRS training scheduled, and the first day Voyager Sopris had trainers available, is Wednesday Feb 2. Unfortunately, this is a DCI/ESOL/SpEd Wednesday. We know this impacts all of the hard work our district-level teams have put in to make these days a success. Please know, we did not make this decision lightly, but we need to reschedule the LETRS training on Wednesday, Feb 2. This will impact all elementary schools. The other schools in the district will continue with the DCI ​and/or ESOL & SpEd PD as planned.
Wednesday, February 2, 2022
9:00 Elementary Schools
1.1 LETRS PD Session (Facilitated by certified LETRS trainers)

Rescheduled from 1/19/2022
8:30 Elementary Schools
Unit 2 LETRS Asynchronous Learning  (2 hrs. for online learning and independent reading)

Rescheduled from 1/19/2022
Thank you again for all your leadership and for grace as we navigate ​these difficult decisions in 2022. The 21-22 KCKPS District PD Calendar and the 21-22 District Content PD – Locations/Links document have been updated to reflect the changes. (Please see the Elementary Curriculum tab for LETRS training links.)
Connector Tools and Calendars
from Diploma+
Connector Support is never far away:
Below are resources I have created for you and your teachers. Please review this information, print a copy of the goal dates and post it for teachers to see. Please also email them these links so they can reference these guides with any questions you may have. As always, Brittany and I are always eager to help.
Connector Goal Dates
Date Collection One Pager
Connector One Pager
FA Diploma+ Calendar for Career Day Connector video use
Canvas and Instructional Technology Support
from Curriculum & Instruction
In an effort to be available to support staff on the use of the Canvas, Wendy Elkins is hosting open, drop-in office hours (via zoom) in Jan. and February. These times occur on most Tuesdays and Thursdays. You can find the exact times and the zoom links on the mobile minutes. If you or your staff needs more personal assistance, you can schedule a time with Wendy Elkins using this Calendly Link.