Action Items
For All Administrators (Action)
Time and Effort Sheets for Retention Bonus in December 15, 2021 Pay Period
from Federal Programs
Any classified staff member employed during the 2020/2021 school year and also employed through December 15, 2021 received a retention bonus in their 12/15/21 paycheck. (Most certified staff received their retention bonus earlier in the school year.) The district used ESSER (Elementary and Secondary Schools Emergency Relief) federal funding to pay for this round of retention bonuses. The federal government requires any staff member paid from federal funds to sign a Time and Effort sheet.
An email will go out the week of 1/18/2022 – to inform staff they may be asked to sign a Time and Effort sheet.
Between 1/18/2022 and 1/31/2022 – Federal Programs will deliver to each department/building leader a folder containing the following: Cover sheet listing all department/building classified staff; Directions for completing and returning signed documents to Federal Programs; Personalized Time and Effort sheets for classified staff in department/building.
Between 1/31/2022 and 2/28/2022 – Department/building supervisors and staff sign Time and Effort sheets.
Once all Time and Effort sheets for department/building are signed by supervisor and each employee, return to Federal Programs using one of the following methods: Hand-deliver to Melissa Cantu in Federal Programs at Central Office; Call or email Melissa Cantu in Federal Programs at 913-627-2476 to arrange for a pick up from Federal Programs team member.
New District Letterhead
from Communications
Please use this letterhead template for district communications.
Annual Inventory Reporting
from Risk Management
A new year is upon us and so is the annual inventory counts for your respective buildings, departments/offices and classrooms. Attached you will find a template to help guide you with the inventory accountability process.
We DO NOT need every pencil, paper clip and staple, as those are considered supplies.
We DO need all the electronics, furniture and equipment to be accounted for.
This includes but is not limited to: Couches, Desks, Dry-Erase Boards, Cabinets, iPad charging carts, radios, TV's computers, electronic learning devices, heavy machinery etc.
If there are any questions, comments, or concerns, please feel free to contact Dennis Martine.
Inventory Instructions PDF
Inventory Template XLSX
For Elementary Administrators (Action)
NGSS Elementary Amplify Science Program Status Survey/Deadline 1/28/22
from Curriculum & Instruction
In an effort to support and advance science instruction and the implementation of Amplify Science, the Science Core Leadership Team would like to gather information on the status of science instruction in the district. We have extended the deadline to 1/28/22 for all K-5 science teachers to be able to fill out this NGSS Elementary Amplify Science Program Status Survey. This is an anonymous, 27-question survey with the majority of questions being quick multiple-choice options. It should only take about 15 minutes to complete. We appreciate you encouraging your teachers to fill out this survey and finding creative ways to give your teachers time to complete it. The team will use this information to better customize support for the implementation of Amplify Science. If you have any questions, please contact Cheryl Beyer.
For All  Principals (Action)
Annual Family School Surveys for KESA, Title I, School Improvement Plans, District Strategic Plan
from Federal Programs
We're PUSHING OUT our annual family survey between 2/1/22 and 2/28/22 to gather data on YOUR SCHOOL's culture, climate, equity & inclusion, and instructional programs. Surveys are for ALL SCHOOLS. DATA will be used for KESA, Title I, School Improvement Plans, and the District Strategic Plan. It's important for all schools to have strong participation rates in order for the responses to be a valid data source.
Surveys will be made available through the following measures:
-Principals should provide structured opportunities/computer stations at Family Advocacy conferences so parents can complete surveys on site.
-Principals should send out survey links in their School Newsletters, encouraging parents to provide important feedback about their schools.
-Classroom or department teachers should send out survey links in their weekly/daily posts for parents.
-Survey links will be posted on the district website.
-The Communications Department will send out the survey link to all families through Flyer Connect and Bright Arrow messages.
Please note there is ONE link for 9 languages and a SEPARATE LINK for the Karen translation.)
A PDF that includes a short message (9 different translations) inviting families to complete the survey, followed by the survey link, is located in the Federal Programs shared drive. A copy of the Survey is also in the folder.
For Title I Principals (Action)
Parents Right-To-Know Letters for Long-Term Substitutes in Title I Buildings
from Federal Programs
A reminder that Federal Program guidelines require buildings receiving Title I funds to notify parents any time their child receives instruction for four weeks or more without a highly qualified teacher in the classroom. Templates (English and Spanish versions) for these individual classroom situations are located in the Elementary/Middle Title I Schools – Required Documents 21-22 folder in the Federal Programs shared drive or on the KCK Principal Handbook Title I resource page.
If you are starting the 2nd semester with a long-term substitute in any of your classrooms, you will need to provide a letter to your families. Please provide Bridgette DeSmet with a signed copy on your school letterhead to retain for the 2122 SY compliance report.
As these situations occur during the remainder of 2122 SY, please use these Parents-Right-To-Know templates to inform families of long-term substitutes and provide a signed copy to Bridgette DeSmet. Thanks for your help and let us know if there are questions.
Informational Items
For All Administrators (Informational Item)
District Cell Phone Upgrade
from TIS
T-Mobile will be in Central Office from January 31st to February 4th from 8:00 am to 5:00 pm to upgrade district issued cell phones. To make the upgrade process smooth please follow the directions on the two attached documents provided by T-Mobile.
Below is the deployment schedule:
| Date | Department | Room |
| --- | --- | --- |
| January 31st | Shop/Maintenance Office | 131-133 |
| February 1st | Police Department/TIS | East Wing Conservatory (3rd floor) |
| February 2nd | Central Office Staff | East Wing Conservatory (3rd floor) |
| February 3rd | All Administrators | East Wing Conservatory (3rd floor) |
| February 4th | Everyone who has not upgraded | East Wing Conservatory (3rd floor) |
Porting Day (Word Document)
Deployment Preparation (Word Document)
New Hire Orientation (revised)
from HR – Talent Development
After engaging in our new format for NHO, it was necessary to make a few adjustments. One of the biggest adjustments is that starting January 26, all HOURLY new hires will report by 8am. All SALARIED new hires will report by 12:30pm. There are also some time adjustments, so please review that document. Also attached is a doc entitled Supervisor/Principal Guidelines. These are some suggestions on what you can do for building/department specific orientation training. Contact Sherrie Piedimonte for questions either by email or by phone at 913.235.8902.
Enough is Enough Virtual Community Forums Coming Soon
from Communications and Marketing
Since being established in 2020, the Enough is Enough program was built to inform the community on issues facing our students and address topics such as- homicide, suicide, mental health, and many more.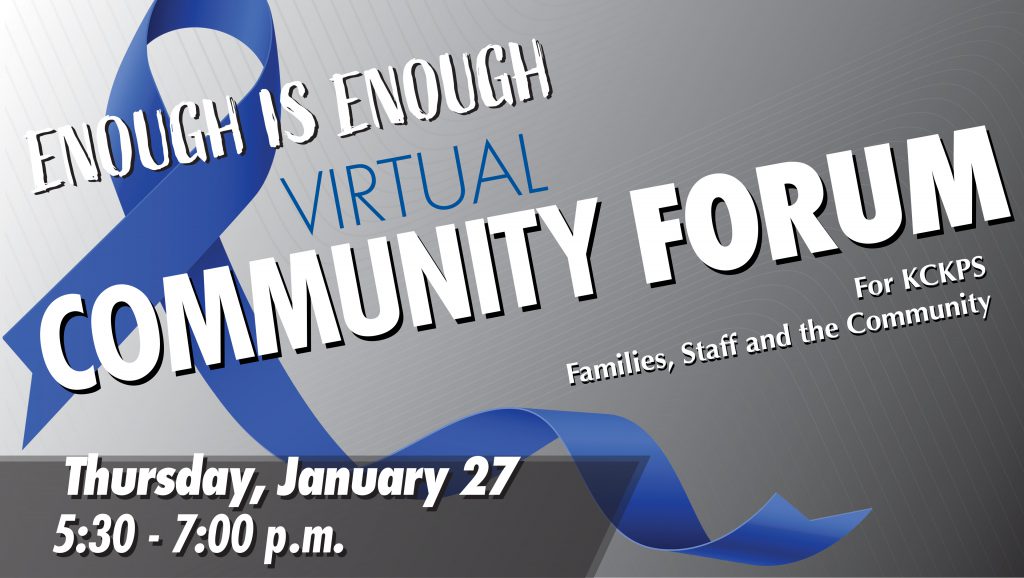 On January 27th, we will be offering a virtual session for our families, staff, and community members to address some of the top issues facing our county, our school district, and our students.
Those adults wanting to join on January 27th can do so by using this link.
We hope to see you there.
Strikeout COVID Vaccine Events Coming Soon
from Communications and Marketing
Administrators, please share this info with staff and students:
Kansas City, Kansas Public Schools is partnering with the Wyandotte County Health Department and the Kansas City Royals to Strikeout Covid for those ages 5 to 11 for  upcoming vaccine events.
Disqualifiers for getting the vaccine:
Sick now with any new fever, cough, chills, body aches, sore throat, fatigue, congestion, headache, shortness of breath, diarrhea, vomiting, loss of taste or smell
Positive covid-19 test in the past 10 days
Living with anyone who is positive currently.
Gloria Willis Middle School – Wednesday, February 2, 2022
A COVID-19 vaccine event will also be held at Gloria Willis Middle School on Wednesday, February 2, 2022. The event runs from 4 p.m. – 6 p.m.
Those youth receiving the vaccine will get a free meal on site and be able to pick up other great giveaways.
The Wyandotte County Health Department will be on hand to administer the Pfizer vaccine for those ages 5 to 11. A parent/guardian must be present at the event. No vaccines for those over 11 or booster shots will be offered. Masks are required at the event.
Central Middle School – Thursday, February 10, 2022
A COVID-19 vaccine event will also be held at Central Middle School on Thursday, February 10, 2022. The event runs from 4 p.m. – 6 p.m.
Electronic Reporting Forms for Injuries and Incidents
From Communications & Marketing
Just a quick reminder that many of the forms you need when it comes to incidents are now electronic.
Student injury forms have now been included to the list.
To find the reporting form for students go to this link: https://form.jotform.com/212366215525047
To make the reporting of workman's compensation accidents less time consuming, the Supervisors Accident Report is now an electronic form.
Regardless of severity, immediate supervisors & directors are required to report all work-related injuries within 48 hours to Risk Management.
To do so, please use the following link: https://form.jotform.com/212304621025035
The Incident Report helps document any incident involving non employees.
This includes our students, visitors, parents and guardians.
The incident form is to be filled out for a number of situations including: a child is missing, if a student is injured in a way that could require medical attention in the future, police have to be called during an incident,  there is a fight,  or even to report property damage.
An example of a fight that needs to be recorded- a fight that breaks out that others are around and it may have been recorded. A fight that someone may not realize they are injured immediately but could later on in the day. Fights that do NOT need to be recorded: two kids on the playground hit each other in the arm over a ball.
There may be other incidents that could also require use of this form.
If you have questions about whether an incident falls into this category, please reach out to your IIO.
Here is a link to the Incident Report form:  https://kckps.org/incident-report/
For Building Principals
Random Acts of Kindness (RAK) Week and Day
from Student Services
RAK Week is February 13th-19th and RAK Day is Thursday, February 17th.
We encourage you to participate in RAK Week/Day this February within your school communities. Even the smallest act of kindness can change a life! To sign up, access lesson plans, activities, and tools kits please visit the Random Acts of Kindness website.
For EC and Elementary Administrators
LETRS Training Rescheduled for Feb 2, 2022
from Professional Workforce Development
The department directors and elementary IIOs met with the very difficult task of trying to reschedule the LETRS training that was cancelled Jan 19, due to reasons related to COVID.
As you already know, numerous Wednesdays have been devoted to the LETRS training during the second semester and we are utilizing all the Voyager Sopris staff developers to train our staff. The only day we did not already have LETRS training scheduled, and the first day Voyager Sopris had trainers available, is Wednesday Feb 2. Unfortunately, this is a DCI/ESOL/SpEd Wednesday. We know this impacts all of the hard work our district-level teams have put in to make these days a success. Please know, we did not make this decision lightly, but we need to reschedule the LETRS training on Wednesday, Feb 2. This will impact all elementary schools. The other schools in the district will continue with the DCI ​and/or ESOL & SpEd PD as planned.
Wednesday, February 2, 2022
9:00 Elementary Schools
1.1 LETRS PD Session (Facilitated by certified LETRS trainers)

Rescheduled from 1/19/2022
8:30 Elementary Schools
Unit 2 LETRS Asynchronous Learning  (2 hrs. for online learning and independent reading)

Rescheduled from 1/19/2022
Thank you again for all your leadership and for grace as we navigate ​these difficult decisions in 2022. The 21-22 KCKPS District PD Calendar and the 21-22 District Content PD – Locations/Links document have been updated to reflect the changes. (Please see the Elementary Curriculum tab for LETRS training links.)
Canvas and Instructional Technology Support
from Curriculum & Instruction
In an effort to be available to support staff on the use of the Canvas, Wendy Elkins is hosting open, drop-in office hours (via zoom) in Jan. and February. These times occur on most Tuesdays and Thursdays. You can find the exact times and the zoom links on the mobile minutes. If you or your staff needs more personal assistance, you can schedule a time with Wendy Elkins using this Calendly Link.