Action Items
For All Administrators (Action)
Bullying Prevention Site Action Plans
From Student Services
Bullying Prevention Site Action Plans are due to the Office of Student Services by October 29th, 2021. Within the Bullying Prevention Site Action Plan Folder, you will find a plan labeled with your building name. On the right hand column, you enter your building's specific information for each section. When completing your action plan, think what protective factors do we have in place to reduce bullying? How do we include all members of our community in this? How do we consistently respond to alleged instances of bullying?
Please also include any supporting documentation, which can be linked in your document. If you have questions or would like to walk through your document with someone from Student Services, please contact Tracie Chauvin.
Bullying Prevention Month and Unity Day
From Student Services
October is Bullying Prevention Month! To recognize this, we will again be celebrating Unity Day 2021 on Wednesday, October 20th, 2021 by wearing orange across the district. Lesson and activity ideas have been shared with counselors. Parent information and flyers can be found here.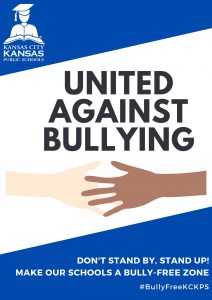 Follow @SELKCKPS for resources and tips on preventing bullying in our KCKPS schools.
For All Principals (Action Item)
New & Beginning Teacher Mandatory Dyslexia Training
from Curriculum & Instruction
The KCKPS 2021-2022 new teachers certified in the following areas are required to complete the series of mandatory training modules for the KSDE Dyslexia Initiative:
Informational Items
For All Administrators (Informational Item)
Recognition of Staff Member
from KACEE
Congratulations to Mr. David Bennett (Harmon High School) for being selected as the 2021 Excellence in Conservation & Environmental Education Award (PreK-16 Education). He was honored at the Annual KACEE Awards dinner on October 1. (Dom DeRosa KACEE BOD)
Kansas NEA Sponsored Mandatory Reporting Training (MEMBERS ONLY)
from NEA-KCK
Kansas NEA has partnered with the Department of Children and Families to provide Mandatory Reporting Training. This is good for all educators, but especially significant for our Early Career & Aspiring Educators. Yes, KCKPS does provide this training but this is a great supplement to our already provided training.
Classified Professional Development
from Human Resources
IT'S HERE!!! On-demand professional development for all CLASSIFIED staff will be available beginning Monday, October 4, 2021! An email will go out sometime today (Fri., 10.1.21) that explains the program and provides a link to the registration form. Adding courses will be ongoing as we expand our program. If you have questions, please contact Sherrie Piedimonte, but please wait until after the email, as many of your questions may be answered by this email. Please note: This is for CLASSIFIED staff only! Thanks so much, and may the learning begin!!
Supplemental Fall Payments Due October 15, 2021
from Human Resources
Greeting administrators,
It is time to submit the names of staff who are participating in the following activities:
Activity
Payment Date
Activity
Payment Date
Band
12/15/21
National Honor Society
12/31/21
Class Sponsor
12/15/21
National Junior Honor Society
12/31/21
HS Debate
12/31/21
Newspaper
12/15/21
MS Debate
12/15/21
Orchestra
12/15/21
Drama
12/15/21
Pep Club
12/15/21
Drill Team
12/15/21
Principal's Choice
12/31/21
Intramural Sports
12/31/21
Scholars Bowl
12/15/21
Jazz Band
12/15/21
STUCO
12/31/21
Louder than a Bomb
12/31/21
Teachers of Tomorrow
12/15/21
Marching Band
11/15/21
Vocal Music
12/15/21
Music
12/15/21
Yearbook
12/15/21
Submit names by October 15, 2021. Use one of the links below.
Elementary Schools
Middle Schools
High Schools
Certified Evaluation Timelines
from Human Resources
As we progress through the year, it is important that we stay abreast of the upcoming deadlines for staff evaluations. The staff evaluation timeline can be found in the Admin Guide under "Employee Evaluations". If you scroll to the bottom, you will find a link to the timeline. The following should be or been complete by the following dates:
Year One and Two Teachers –
Due August 31 – Growth and Evaluation Orientation Meeting. Teacher Growth Plan Overview
Due September 1 – Teacher Completes Growth Plan
Due September 24 – Teacher Growth Plan – Supervisor Approval
Due September 24 – Observation 1 Complete
Due October 18 – Observation 2 Complete
Due Evaluation 1 – November 9 Complete
Year Three and Four Teachers –
Due August 31 – Growth and Evaluation Orientation Meeting. Teacher Growth Plan Overview
Due September 1 – Teacher Completes Growth Plan
Due September 24 – Teacher Growth Plan – Supervisor Approval
Due September 24 – Observation 1 Complete
Due November 9 – Observation 2 Complete
Due January 15 – Observation 3 Complete
Due February 15 – Evaluation 1 Complete
All Other Evaluations –
Due February 15 – Evaluation Complete
Fall Staff Reviews
from Human Resources
The Fall Staff Review is a comprehensive look at all teachers in your school, including all relevant data associated to staff. During this time the Principal(s), IIO and HR Advisor(s), Director(s) will identify staff that fall under the following categories, "Top Performer", "Expected Performer", and "Low Performer" The following are the dates associated.
By October 18 – HR sends form out to schools to fill out about each teacher in their building (with rubric)
By October 29 – School Principal(s) and IIOs will have completed form for all teachers in their respective buildings
By November 30 – Meeting with Admin and HR to discuss
By December 16 – Conversations with employees about performance and longevity.
National Walk and Bike to School Day
from Communications & Marketing
National Walk and Bike to School Day is quickly approaching. Looking for ideas on how to have your students participate? Want to get your school registered? Here is a link for more information.
HR Power Hour
from Human Resources
We hope that the school year has gotten off to a great start for everyone!!! We would like to host an HR Power Hour Thursday, October 14th from 9:00am – 10:00am. During this time HR will share updates and announcements. This is also a time for building administrators to ask HR questions they may have.
Meeting ID: 839 8230 2473
Passcode: e1iadu
Electronic Reporting Forms for Injuries and Incidents
From Communications & Marketing
Just a quick reminder that many of the forms you need when it comes to incidents are now electronic.
Student injury forms have now been included to the list.
To find the reporting form for students go to this link: https://form.jotform.com/212366215525047
To make the reporting of workman's compensation accidents less time consuming, the Supervisors Accident Report is now an electronic form.
Regardless of severity, immediate supervisors & directors are required to report all work-related injuries within 48 hours to Risk Management.
To do so, please use the following link: https://form.jotform.com/212304621025035
The Incident Report helps document any incident involving non employees.
This includes our students, visitors, parents and guardians.
The incident form is to be filled out for a number of situations including: a child is missing, if a student is injured in a way that could require medical attention in the future, police have to be called during an incident,  there is a fight,  or even to report property damage.
An example of a fight that needs to be recorded- a fight that breaks out that others are around and it may have been recorded. A fight that someone may not realize they are injured immediately but could later on in the day. Fights that do NOT need to be recorded: two kids on the playground hit each other in the arm over a ball.
There may be other incidents that could also require use of this form.
If you have questions about whether an incident falls into this category, please reach out to your IIO.
Here is a link to the Incident Report form:  https://kckps.org/incident-report/
Career Expo
from WyCo Unified Government
We invite KCKPS schools to sign-up for the region's fourth Public Service Youth Career Expo which takes place Nov. 3-4, 2021. This free, virtual event will help middle and high-school students explore high-demand and rewarding career opportunities in local government. Cities and counties across the Kansas City region have joined forces to co-sponsor this high-impact event giving students the opportunity to interact with local public sector employees in 10 different public sector career areas. To date, there have been more than 2,000 registrations and we hope to have a strong representation from KCK!
Join one or many of the interactive sessions that will be available over two days. Each career area will present two times the first day and two times the second day. Four simultaneous sessions will run each hour. Each session will last 45 minutes, with a 15 minute break between each. Schedules have been reversed for the second day to give schools maximum options to attend sessions that fit their schedules. Register by October 15.
For Elementary Principals (Informational Item)
SS/Science Implementation Walkthroughs
from Curriculum & Instruction
To gather data on the use of the new social studies and science curriculum to support implementation, Curriculum and Instruction will be doing short implementation walkthroughs of SS and Science classes in the next few weeks. Implementation walkthroughs are not in any way evaluative of teachers. The purpose of the walkthroughs is to inform and guide our department in how we can best support the implementation of the curriculum. If you have questions, please contact cheryl.beyer@kckps.org
Elementary LETRS Professional Development
from Curriculum & Instruction
The KSDE LETRS® initiative is intended to address learning loss during the COVID-19 pandemic, specifically in language and early literacy. KSDE identified KCKPS as a district that was significantly impacted by the COVID-19 pandemic, resulting in extended periods of time in remote instruction and the interruption of foundational early reading instruction. Therefore, LETRS® is available at no cost for PreK-3 teachers and instructional coaches in our district. We are excited to announce that the KCKPS Board of Education unanimously voted to purchase LETRS® training for all our 4th and 5th grade classroom, ESL, Special Education, and Intervention teachers as well as our K-5 principals, assistant principals and SLPs.
LETRS® Training will begin on Wednesday, October 13 for K-5th Grade. This year, we will focus on completing Units 1 and 2. The remaining six units will be completed in the 22-23 and 23-24 school year. The LETRS® PD calendar allows teachers to complete all asynchronous learning (reading and online work) during contracted school days. The live "in-person" training sessions (via Zoom) have also been built into the calendar. Please review the 21-22 Professional Development Calendar  for the specific dates and times.
Finally, you should have received an email from Voyager Sopris Customer Service notifying you that you will be receiving materials soon. The estimated time of arrival is 10-15 days. So, please keep an eye out for those materials in the next week or two.
More information regarding EC LETRS® Training will be coming soon.
For Secondary Principals (Informational Item)
Edgenuity as a Prevention Tool
From Student Services
Our Middle and High School Social Workers, Counselors, and Short Term Suspension Monitors all now have accounts on Edgenuity and have attended a live or recorded training to learn about the Purpose Prep SEL content suite, how to navigate Edgenuity, and the ideas for using the SEL content at a Tier 1, 2, and 3 level. This content is here for use as an alternative to out of school suspension, small group and individual skills teaching, and reinforcing Tier 1 expectations. If you have any questions or would like to speak more about this, please contact Tracie Chauvin.
Intervention on Purpose Content Suite (Word DOC)
The recording of the training can be found here (Passcode: 07uK2U+m).