Communications
Students of the Month
We know the school year is just getting underway but this is a great time to start identifying people in your class/school that are going above and beyond. Do you have a student that helped others on their first day? Excelling inside and outside the classroom? This is your chance to nominate them for Student of the Month. To do so, please follow this link.
For Central Office (and Non-School Buildings)
Please view your department's pages on the website (which you should be able to find here), and let Mike Keener know if there's anything that needs to be updated  for the beginning of the school year.
Teacher Wishlist Creation – T-Mobile Charitable Event
T-Mobile has launched an initiative to support and highlight Teachers' efforts in the current educational climate. The initiative involves donating supplies to Teachers/Schools in need.
Kansas City Kansas Public Schools has been chosen as one of the three school districts to engage and assist with creating a Teacher Wishlist. This list will be used for T-Mobile Wholesale associates to purchase school supplies they have requested to help them in their classrooms.
So, this is our ask of you as the Principal: can you help us identify the most needed supplies and how much is needed for teachers in your school? We can't make this possible without your assistance.
T-Mobile will need each school's Wishlist back by Wednesday, August 18th. Please send responses to Edwin Birch via email.
Enough is Enough Sign-Up
Principals,  please share this pledge page with your staff – and ask them to share it with students and parents.
Curriculum & Instruction
Attn: ALL Principals and Assistant Principals (please share with your staff)
Re: Grading Policy and Guidelines
Please use the following link to access the KCKPS Grading Policy and Guidelines document. This document was created to support staff with understanding our district grading policy and practices. 
Middle and High School Only- To assist with using the Canvas grading "Passback" feature and the grading practices of High School advanced programs/courses (AP, IB, KCKCC, etc.), the preprogrammed grading categories in Infinite Campus have been removed. Therefore, teachers/PLCs will need to create their own grading categories before assignments can be created in Infinite Campus. See the Grading Guidelines section of the document for further information. 
Attn: Elementary Principals
Re: DEI & ELA Text Bias Cadre
In partnership with the Department of Diversity, Equity, & Inclusion, the Curriculum & Instruction Department is seeking educators to review ELA materials for text bias over the course of the first quarter. Cadre members will be compensated at the extra duty hourly rate for two meetings (Aug 31 & Oct 12 4:30-6:30) as well as 14 hours of self-directed work to review a sampling of the following materials:  4th & 5th Grade General Education Teachers: CKLA
Please share this link with your 4th and 5th grade classroom teachers. The deadline to apply will be Friday, August 20th. Please email allison.rice@kckps.org with any questions. Thank you!
DERA
The following
link
will direct you to the District Comprehensive Assessment Plan 2021-22. This link will also be posted on the KCKPS website under About Us > Calendars. The district's comprehensive assessment plan is comprised of a variety of state and local assessments with a range of purposes designed to meet the needs of students in our district. In accordance with KCKPS' commitment to implementing the MTSS framework, we have developed a schedule of assessments and cadence (timing) for the review of student results. Please note there are multiple tabs located on the bottom of the spreadsheet that organizes the assessments by schedule, purpose, cadence, and required FastBridge certifications. Please be sure to share this document with your staff during the Aug. 18th MTSS overview and FastBridge certification PD.
As a reminder, this document is live and may be updated based on our work with the Kansas MTSS team.
Diploma+
Elementary Administrators:
Diploma+ FA Mondays are beginning next Monday, August 23rd. Teachers are expected to deliver SEL Second Step lessons some Monday's and Diploma+ lessons on other Mondays. Attached is a calendar that shows which Mondays is for Diploma+ Career Exploration(Blue) and which Mondays are for SEL Second Steps (Yellow).
On the Diploma+ Career Exploration FA Mondays teachers are expected to teach their students about careers by either using:
a recorded Connector session about careers,
a live Connection session about careers or
have a career quest speaker.
I recommend that on the first FA Diploma+ day, August 23rd, teachers select a recorded Connector session about a career. Teachers are welcome to request a live Connector session for the next FA Diploma+ day on Oct 4th. There is not enough time to request a live Connector session for August 23. 
Below are directions for selecting a recorded video from the recommended library. 
Follow these steps:
Go to: Prepkc.Nepris.com
Log in
In the middle of the Dashboard you will see the GRADES K-2, Grades 3-5.
Click on the K-2 Playlist below the blue or yellow box.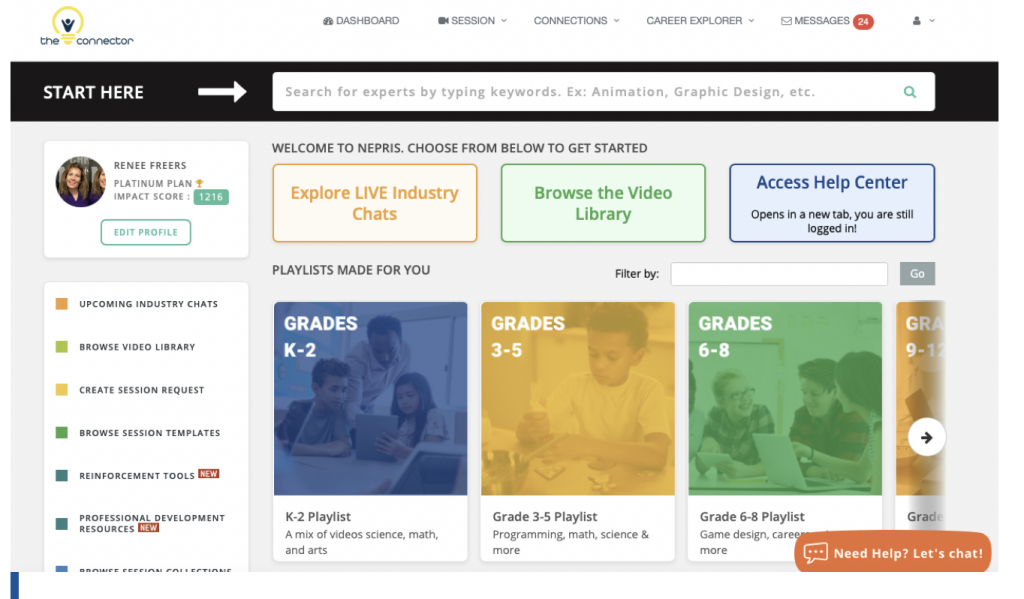 There will be between 10-15 recommended videos to choose from.
Look through the videos and select the one you think would work well.
Watch the video to be certain this is the video you would like to show.
(All videos are not created equal)
Bookmark the video by going the three dots in the upper right corner by the word SHARE and selecting bookmark.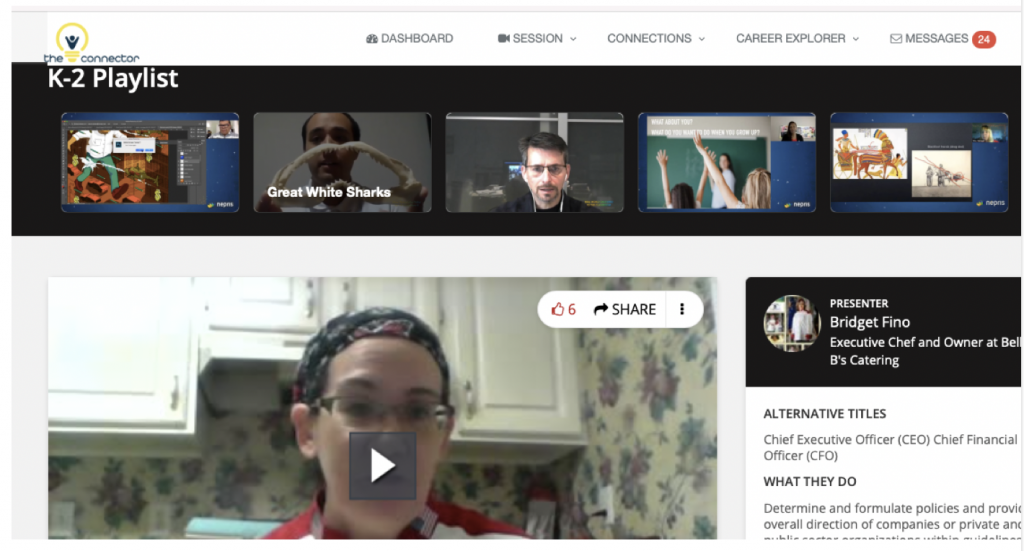 Watch the video again and write down the times of the video you want to show your students.
(Some videos will have a beginning &/or ending you are not interested in or don't have time for)
On the day before you would like to show the video, go to your Connector dashboard.
Click on My Sessions at the top of the page and select My Bookmarks.
You will find the video you want to show.
Click on the video and it will open in another screen.
Push the play button and away you go……
We did not train teachers to use the recorded video library last year because it did not count toward our strategic goal.
I am available this week in my personal Zoom room to offer support to teachers at the below times.
Wednesday, Aug. 18     9:00-12:00
Thursday, Aug. 19         1:00-3:00
Friday, Aug. 20             9:00-11:00, 1:00-3:00
Meeting ID: 586 327 0815
Passcode: 4Ls9TH
Link for a calendar of FA days and topics
Please share this information with your teachers.
Diversity, Equity, and Inclusion
ALL Building Principals 
Please confirm who your DEI Building Reps will be for the 2021-2022 academic year.
Here is the link to see who we currently have on record for your building reps.
If your Reps are correct, please color your row green. If you need to change your reps please do so and then color your row green.
If you are still working on finalizing your reps, please color your row yellow.
If you have any questions or would like us to do it please email Zak with your building reps names: zakry.akagi-bustin@kckps.org
Thank you to those who have confirmed or have already reached out to change your DEI Building Reps, thanks!
ESOL
ALL Principals
As we move forward with merging the ESOL September 20th tasks into Infinite Campus we want to remind all buildings of the following upcoming tasks:
ESOL September 20th tasks:
Buildings with ESOL teachers and aides need to log their weekly meeting in Infinite Campus. The first meeting date should be the week of August 9th. This is ongoing and should be input weekly.
All ESOL staff that push into classrooms need to add their schedule to Infinite Campus on August 18-20th. Directions on how to input schedules are linked here.
** Directions to verify that staff have input schedules will be shared on Friday. Note: Elementary SPED, Gifted, and Reading Specialist will input their push-in and pull-out schedules August 25-27.
Federal Programs
AUDIENCE: Title I Building Principals
Subject: Keep SIGNED Copies of School-Home Compacts ON FILE
Title I Schools are required to keep SIGNED COPIES of School-Home Compacts. Principals should put a process in place to have class sets of signed compacts returned to the Principal's office for retention during the 2021-22 school year.  KCKPS is in the KSDE cohort scheduled for the ESEA audit during 2021-22. Samples of these signed compacts will be used for documentation regarding this compliance requirement.
AUDIENCE: NEW Building Principals, Assistant Principals, Instructional Coaches 
Subject: 2nd VIRTUAL Session of School Improvement Planning (SIP) Core Training (Onboarding) August 27, 2021
New administrators (principals, assistant principals) and instructional coaches should plan to attend the 2nd and final session of SIP workshops designed for new KCKPS instructional leaders.  This session will focus on Phases 3 & 4 of the SIP process – Linking Causation to Intervention and Intervention to Implementation in KansasSTAR.  To accommodate busy schedules, these trainings will be conducted via Zoom.
Participants have been pre-assigned to the morning or afternoon session, based on whichever one they attended for Session 1: Phases 1 & 2.  Click on the SIP Core Training Phases 3 & 4 roster to get the morning (8:30 – 10:30 am) or afternoon (1:00 – 3:00 pm) Zoom links which are located at the top of each roster.
Human Resources
Admin Desk
Hello All, 
We have had some instances where Administrators are not able to get into the Admin Guide. The admin guide should be a first point of Reference for Human Resource related questions. The Admin Guide can be found under "Staff Links" from the kckps.org Home Page. Click here to fill out the form for access.
Thanks.
Evaluation Information 
HR is currently working with PowerSchool/TalentEd Support to get our evaluation information automated for the future.  In the meantime, we are asking that if principals are missing staff or need staff added/removed from their list in TalentEd Perform to email those requests to deandre.tuggle@kckps.org In the email please provide the employees first and last name, employee ID#, and if they need to be added/removed.  If you have any issues with your staffs list in iObservation please email tanya.selectman@kckps.org  We will provide additional updates in the coming weeks.
KidZone
Please share the PDF linked below.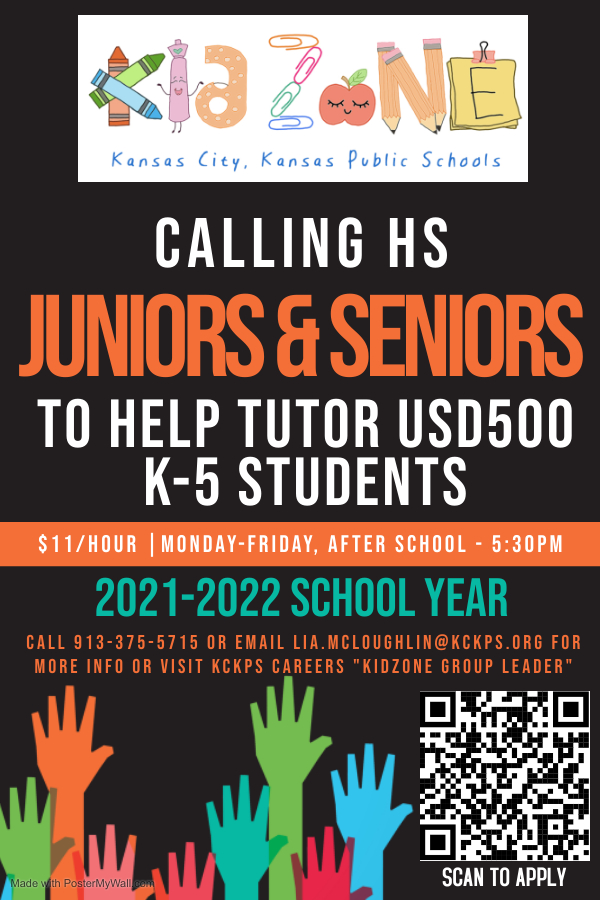 Nutritional Services
Hello Principals,
In lieu of meal applications this year, families are to complete the Household Economic Survey. The collection process will be similar to previous years, there is a paper form available and an online form. The paper form was mailed to all households and is attached to this notification. Schools are welcome to print and distribute at your convenience. The online form links are listed below and also on the district homepage. The online version is a great tool to use when families have technology available or you are assisting a family completing the meal application over the phone. The information from these forms will be stored in Infinite Campus. New this year is a function we are really excited about, reporting. Principals and school staff are able to run reports at your building at your convenience. Additionally, TIS has set the report up so you will be emailed a copy of students that have yet to complete the survey this year on a daily basis. To access the report in Infinite Campus, go to the Ad Hoc reports-Filter Designer-Principal-No Economic Survey. This is live data but also know that once a form is submitted to Nutritional Services via paper or online, it can take up to a week to process during high volume times. As always, please reach out to Nutritional Services at (913) 627-3900 or email me directly if you have questions or concerns. Have a great day!
https://www.cognitoforms.com/KCKPSNutritionalServices/_20212022householdeconomicsurveyenglish
https://www.cognitoforms.com/KCKPSNutritionalServices/_20212022encuestaecon%C3%B3micadelhogarspanish
Student Services
Student Exit