Action Items
For All Administrators (Action)
Bullying Prevention Site Action Plans
From Student Services
Bullying Prevention Site Action Plans are due to the Office of Student Services by October 29th, 2021. Within the Bullying Prevention Site Action Plan Folder, you will find a plan labeled with your building name. On the right hand column, you enter your building's specific information for each section. When completing your action plan, think what protective factors do we have in place to reduce bullying? How do we include all members of our community in this? How do we consistently respond to alleged instances of bullying?
Please also include any supporting documentation, which can be linked in your document. If you have questions or would like to walk through your document with someone from Student Services, please contact Tracie Chauvin.
Bullying Prevention Month and Unity Day
From Student Services
October is Bullying Prevention Month! To recognize this, we will again be celebrating Unity Day 2021 on Wednesday, October 20th, 2021 by wearing orange across the district. Lesson and activity ideas have been shared with counselors. Parent information and flyers can be found here.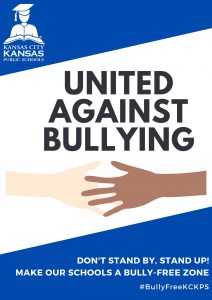 Follow @SELKCKPS for resources and tips on preventing bullying in our KCKPS schools.
For Building Administrators (Action Item)
Mandatory & Refresher IC Trainings for School Secretaries
from TIS
TIS is conducting various mandatory and refresher trainings between October 11 and November 19th. Please work with your building staff to ensure they have registered. Email notices were sent to current staff on 10/5/2021. These trainings are essential to the integrity of our district data and effect how your building functions. Staff will need to be relieved from all other duties during this time and have a quiet, undisturbed space to participate with a computer, working camera, and microphone.
Staff who do not attend the mandatory trainings will lose rights to functions in Infinite Campus and not be able to perform their duties in your building.
Sign ups are available here.  You must be logged into your m.kckps.org account.
Questions can be sent to Michelle Gould or Kimberly Kirschenbaum.
For EC-5 Administrators (Action)
EC-5 Canvas Site Training Sign Up
from Curriculum and Instruction
This is for EC-5 schools only. Wendy Elkins has provided multiple sign-up opportunities to come to your school for the entire day and collaborate with teachers and administrators on how to use Canvas. Sign-ups begin on Nov. 2 and run until Dec. 17th. Generally, schools have been using PLCs as the time for Canvas training with outliers dropping in when they have availability. However, if you have a different format in mind, please feel free to set up the time that will work best for your building.
Use this link to schedule your site visit. You will schedule a time using Calendly, and the link is provided below. There are two days per week where the time runs from 8:30-3:30 and two days from 9:00 – 4:00. Please include the name of the school and a contact person. If you have any questions, please email Wendy Elkins.
Informational Items
For All Administrators (Informational Item)
McDonald's Free Thank You Meal for Educators
from Communications & Marketing
Please share this graphic with your staff.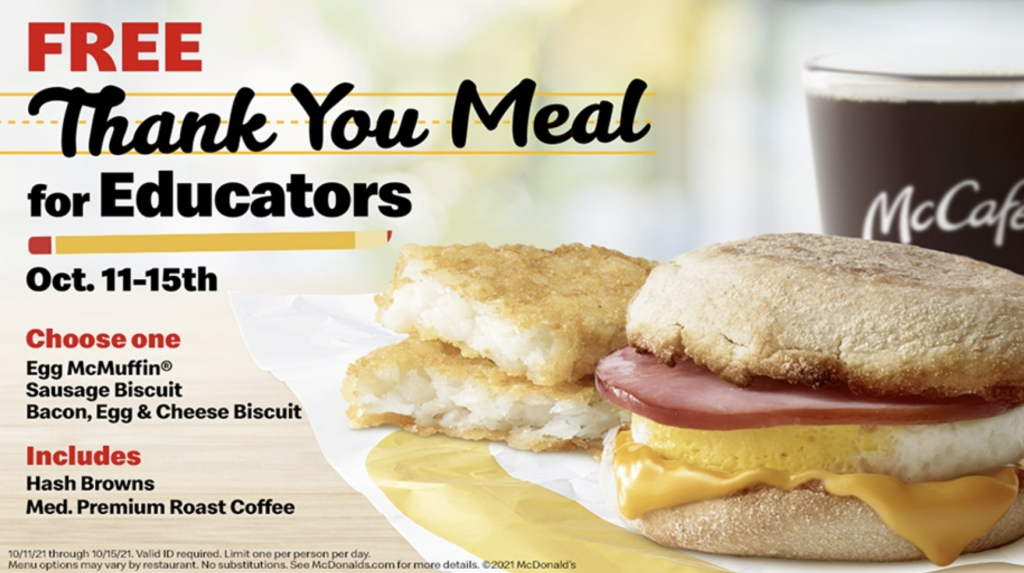 ESports Lounge Open House
from Boys & Girls Club of Greater Kansas City
Please share this PDF flyer with your staff.
KCKPS Mobile Minute
from Curriculum & Instruction
Please click this link for the most recent edition of the KCKPS Mobile Minute. Information regarding Canvas, Apple Classroom, training opportunities, and more!
ESOL Endorsement
from ESOL
We are please to share that we will once again be offering ESOL endorsement opportunities to teachers through our KU STEP-UP partnership. Please encourage teachers to take advantage of this opportunity to get a Master's in TESOL.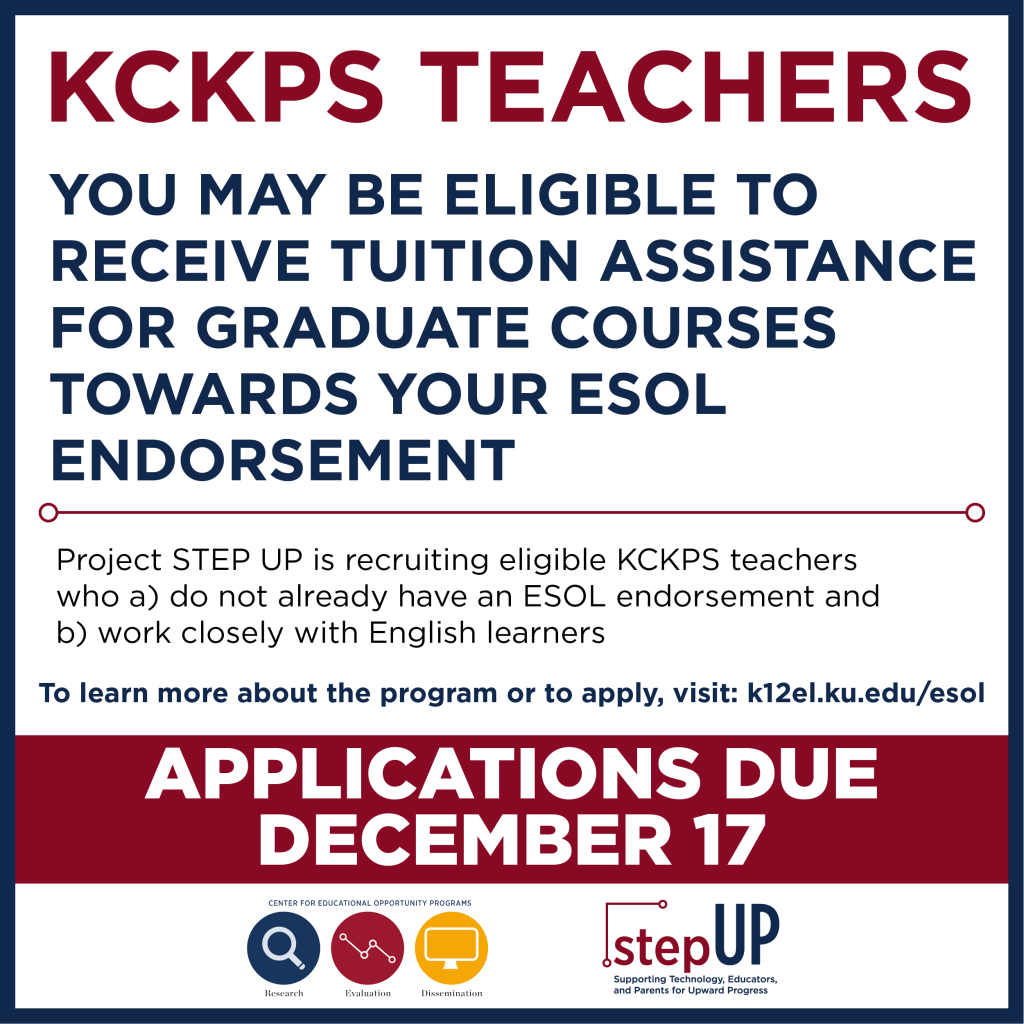 Mid-TESOL Conference
from ESOL
We are excited to announce that for the second year we will be sending KCKPS staff to the Mid-TESOL virtual conference. Through our partnership with KU STEP-UP we are able to fund registration costs. We are offering this opportunity to any ESOL teacher and aide. We also want to extend this opportunity to other certified staff. Please share out to teachers that would be interested in attending. Please note all ESOL aides who sign up and attend will receive a stipend for attendance for the Saturday session.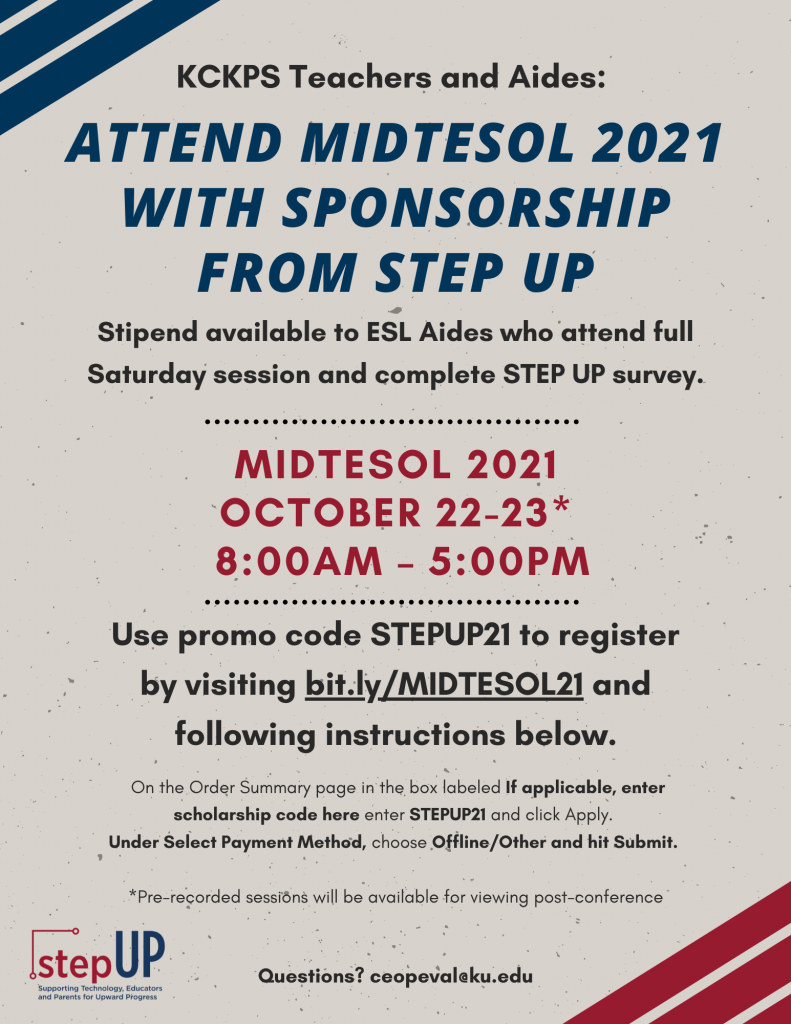 To sign up you will:
Complete KCKPS Conference Form
Register by visiting bit.ly/MIDTESOL21
Electronic Reporting Forms for Injuries and Incidents
From Communications & Marketing
Just a quick reminder that many of the forms you need when it comes to incidents are now electronic.
Student injury forms have now been included to the list.
To find the reporting form for students go to this link: https://form.jotform.com/212366215525047
To make the reporting of workman's compensation accidents less time consuming, the Supervisors Accident Report is now an electronic form.
Regardless of severity, immediate supervisors & directors are required to report all work-related injuries within 48 hours to Risk Management.
To do so, please use the following link: https://form.jotform.com/212304621025035
The Incident Report helps document any incident involving non employees.
This includes our students, visitors, parents and guardians.
The incident form is to be filled out for a number of situations including: a child is missing, if a student is injured in a way that could require medical attention in the future, police have to be called during an incident,  there is a fight,  or even to report property damage.
An example of a fight that needs to be recorded- a fight that breaks out that others are around and it may have been recorded. A fight that someone may not realize they are injured immediately but could later on in the day. Fights that do NOT need to be recorded: two kids on the playground hit each other in the arm over a ball.
There may be other incidents that could also require use of this form.
If you have questions about whether an incident falls into this category, please reach out to your IIO.
Here is a link to the Incident Report form:  https://kckps.org/incident-report/
Career Expo
from WyCo Unified Government
We invite KCKPS schools to sign-up for the region's fourth Public Service Youth Career Expo which takes place Nov. 3-4, 2021. This free, virtual event will help middle and high-school students explore high-demand and rewarding career opportunities in local government. Cities and counties across the Kansas City region have joined forces to co-sponsor this high-impact event giving students the opportunity to interact with local public sector employees in 10 different public sector career areas. To date, there have been more than 2,000 registrations and we hope to have a strong representation from KCK!
Join one or many of the interactive sessions that will be available over two days. Each career area will present two times the first day and two times the second day. Four simultaneous sessions will run each hour. Each session will last 45 minutes, with a 15 minute break between each. Schedules have been reversed for the second day to give schools maximum options to attend sessions that fit their schedules. Register by October 15.
For Elementary Principals (Informational Item)
Connection Goal Reached
from Diploma+
Joe Graham and his team at John Fiske have already met the first Connector goal and blown right by it with 55% of his staff holding live Connector sessions with their students. Way to Go Joe!!
We know the principals' support makes all of the difference. Please remind your staff about the goal to hold 1 live Connector session before winter break.